Booking.com
ACTIVATIONS
Booking.com Eurovision
Making it Easier to Experience the World
Booking.com entertained influencers, musicians and members of the press at the Eurovision Song Contest in Turin, Italy with a 5x5 sq. meter custom activation that highlighted the company's sponsorship of this annual cultural phenomenon. The #BookingSoundLounge featured a unique synthesizer that invited guests to build and mix compositions of Eurovision hits.
SERVICES
Event Production
Program Strategy
Creative Strategy & Design
Digital Interactives
Fabrication & Logistics
The leading digital travel platform's activation used hand-held balls that resembled the "dots" it uses to rate properties online. When a player placed a ball in a divot on the board, one instrument of a winning Eurovision song would play, such as a bass drum or part of the vocals.
Players could guess the song as they added more and more balls to the table, or summon their inner DJ and create their own remix. Different songs were introduced on the table over time so that guests could come back and have an evolving list of songs to experience.
Custom travel scenes were generative based on music mixed at the table and players posted selfies for chances to win daily prizes.
Behind the table, three large panels resembling windows displayed custom artwork of popular travel destinations inspired by the countries and regions of the Eurovision hits. Special attention was paid to lighting to create the perfect backdrop for photo ops.
Every time a player placed a ball on the table, the scenery reacted and became more visually evolved and animated. Airplanes, skylines and famous landmarks bounced and bopped in time with the music, providing a fun and memorable multi-sensory experience.
To spread the Booking.com love, players could scan a QR code on the table to get a socially sharable digital postcard of a dynamic travel scene as well as a Booking.com goodie bag.
Players who posted and tagged #BookingSoundLounge had daily chances to win coveted Eurovision swag. At the end of the event, a grand prize winner was awarded a replica of the actual Eurovision Song Contest trophy!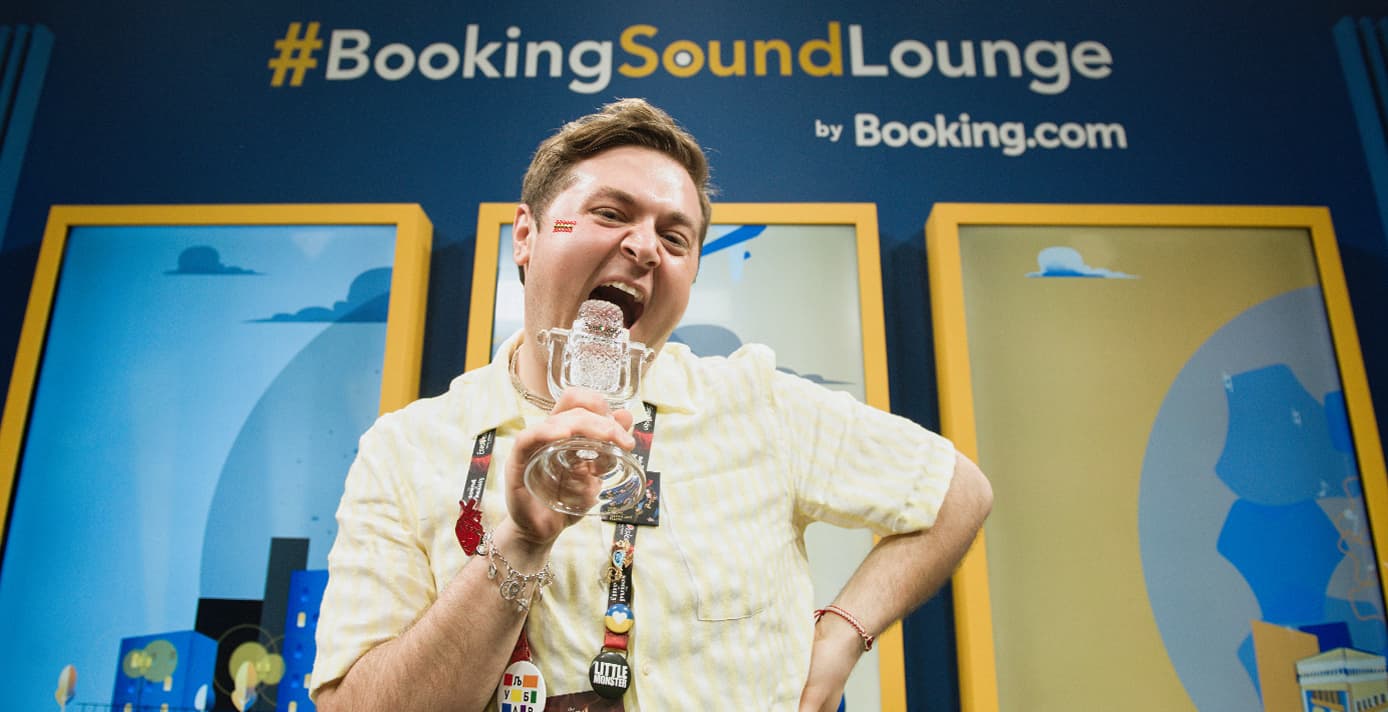 Let's create exceptional together.
Exceptional work is more than just the banner we wave–it's our promise.
get in touch