The New York Times
DIGITAL ACTIVATIONS
NYT at Google Cloud Next
The New York Times

+

sparks
Digitizing the Times' Historic Archives
In New York City, tucked multiple stories beneath Times Square, the Times' has a collection of historic clippings, photos, and other paper documents deemed 'The Morgue.' This catalog had never been digitized and was managed by a single individual. In an effort to expand access to these documents and ensure the longevity of thousands of fragile items, the Times' and Google Cloud embarked on an ambitious effort to digitize the entire collection. The partnership unlocked a trove of data using Google tools that can make hidden information - visual landmarks within images, handwritten information on clippings, connections to names and dates - readily accessible to journalists.
SERVICES
Digital Interactives
Creative strategy & design
Content design & production
Fabrication & logistics
We traveled to the New York Times's offices in Manhattan for a hands-on exploration of The Morgue. Following our site visit, our Creative Technology and Experiential teams worked collaboratively to develop an experience that evoked the feeling of pouring through the historic archive. During this period, we had various conversations with the Google Cloud product teams to understand the various tools involved in the digitization effort to better highlight their unique functions.
Having direct access to both the Times' and the Google Cloud team allowed us to holistically understand the partnership and better highlight the importance of the digitization efforts and the specificity of each Cloud tool leveraged.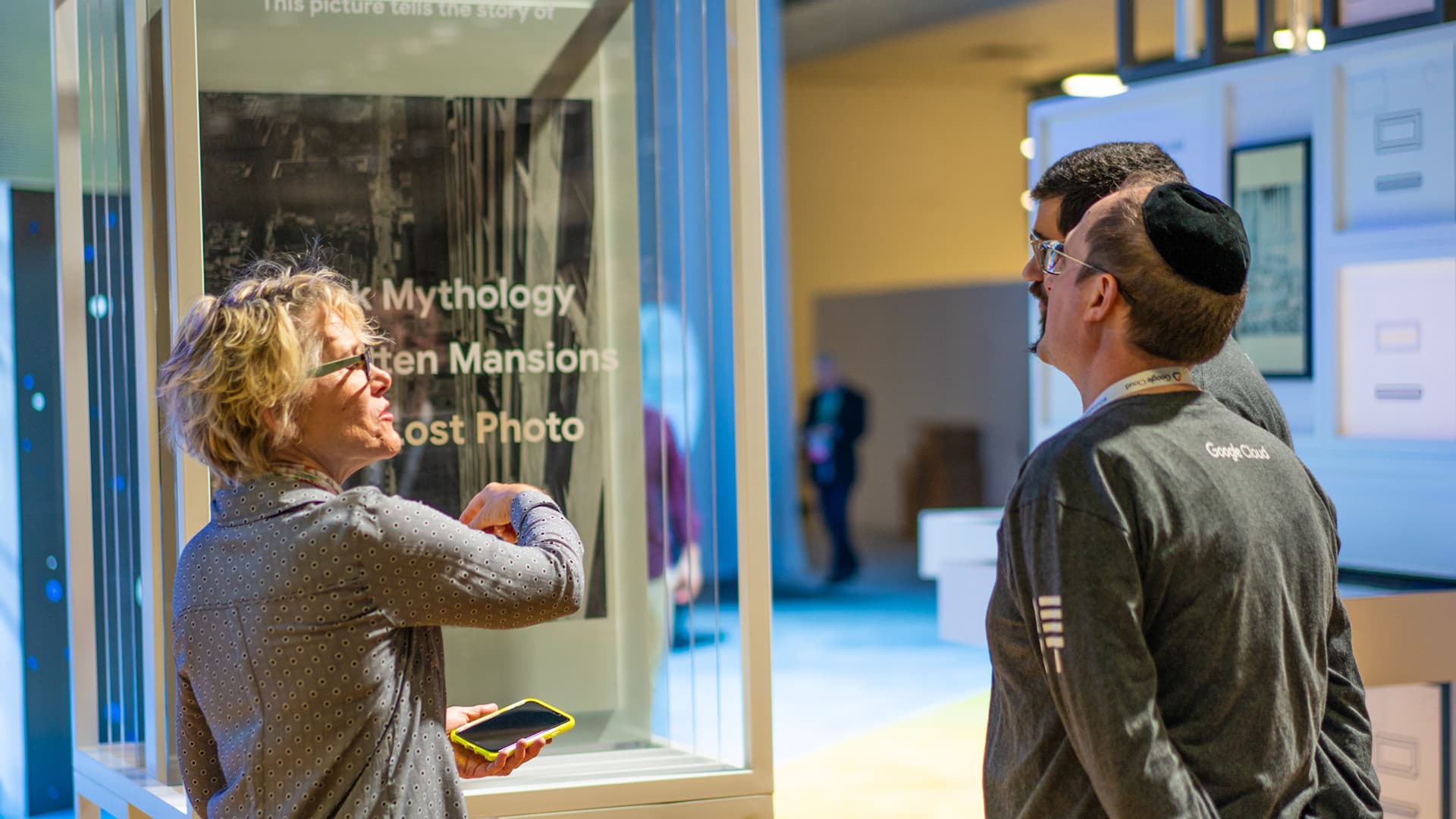 Bringing the Experience to Life
At the Google Cloud Next NY Times partnership demo, attendees could engage in two interactive moments. The hero interactive element was a digital touch table. Users could explore a series of images pulled directly from The Morgue and learn about various insights gained from leveraging Google's AI and ML products. A second, more subtle, interactive allowed users to open and close digital drawers to reveal additional images from the subterranean collection.
The standout design element was a Google NEXT branded structure that evoked the movement of physical archives into the cloud. This was done through the creation of a heavy base of drawers - a nod to The Morgue's various drawers and cabinets - that slowly dissolved into a series of open-air cubes.
Let's create exceptional together.
Exceptional work is more than just the banner we wave–it's our promise.
get in touch