Slack
ACTIVATIONS
Slack Digital #HQube
An Interactive Pop-Up Experience
Originally debuted as a live, interactive promo for Slack's virtual Frontiers event, the Slack Digital HQube made a splash with audiences on both sides of the country when it first appeared in San Francisco's Yerba Buena Square as well as Grand Central Terminal in New York City. Building on the experience for SXSW, the interactive pop-up, where work and play go hand in hand, invited guests to explore a larger-than-life Digital HQube, snap a fresh profile pic in immersive 3D scenes, or cozy up (and get a few things done) in the Work from Anywhere lounge. Sweet treats, exclusive Slack swag, and all the Wi-Fi you'd ever need completed the "future of work" themed exerience.
SERVICES
Event production
strategy & measurement
Creative strategy & design
Digital Interactives
Content design & production
Fabrication & logistics
Meant to playfully and beautifully showcase all of the ways Slack has revolutionized how—and where—people get their work done, the primary inspiration behind the design was a digital headquarters (HQ).
Each side of the cube had its own relevant theme:
01

Work from Anywhere:

Experience a work-from-anywhere world

02

Welcome to Your Digital HQ:

See how work happens in Slack

03

Explore the Future of Work:

See what's possible

04

Join us at Slack Frontiers!:

Earn swag for your participation
Slack's annual Frontiers conference serves as an essential vehicle to drive social awareness and brand amplification.
How It Started
When the conference adopted a virtual format, Slack wanted to create an engaging and COVID-safe in-person event to act as a companion experience to the conference.
To achieve their vision, we designed and produced the Slack HQube, an interactive, pop-up brand activation that welcomed attendees for six days in New York City's Grand Central Terminal and San Francisco's Yerba Buena Square.
#HQube at SXSW
With the annual SXSW festival officially back to live events, activations and dozens of brand sponsored takeovers, Slack built off the success of #HQube and invited guests to be part of the future of work in a larger free interactive pop-up experience, where work and play go hand in hand.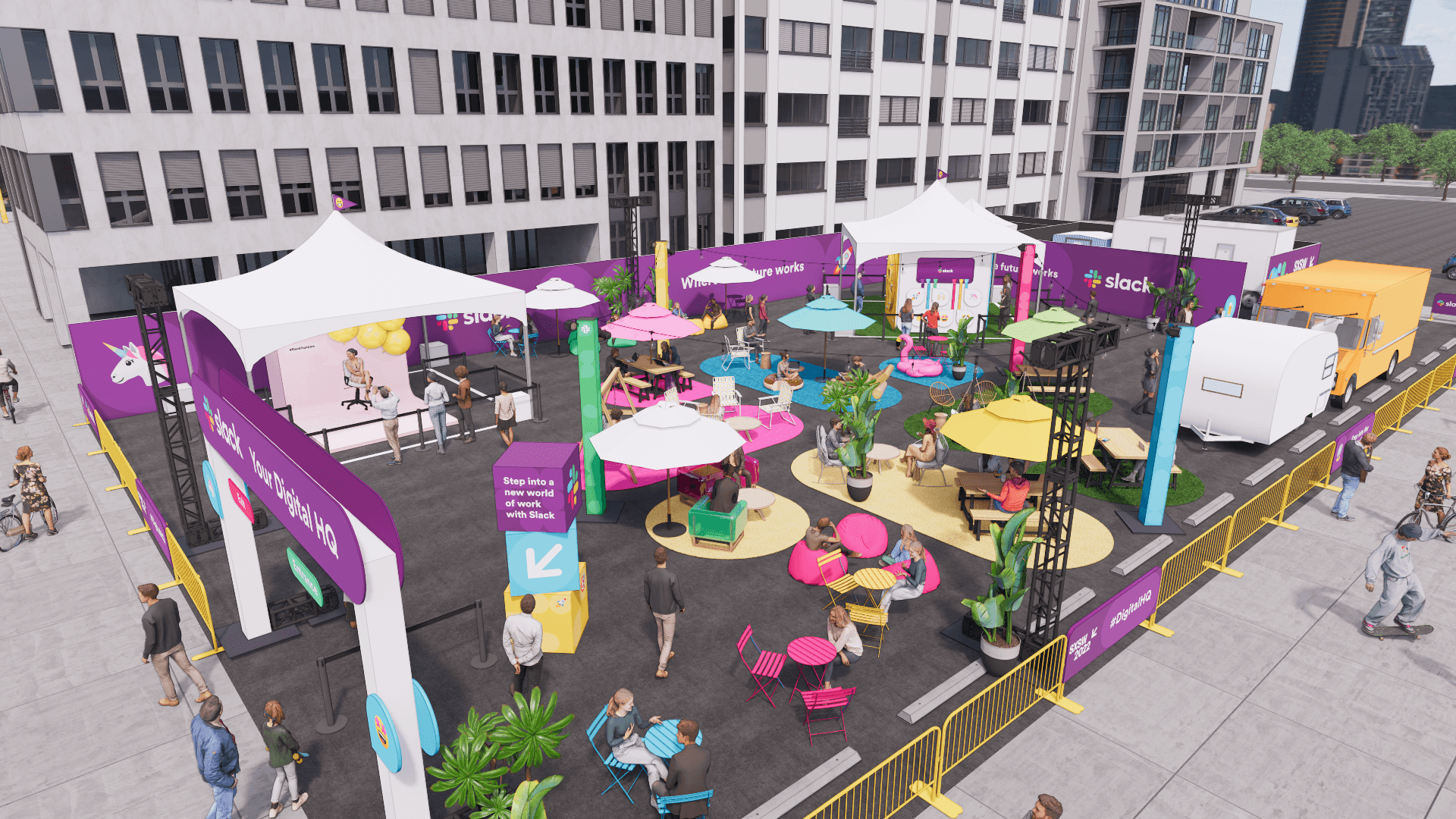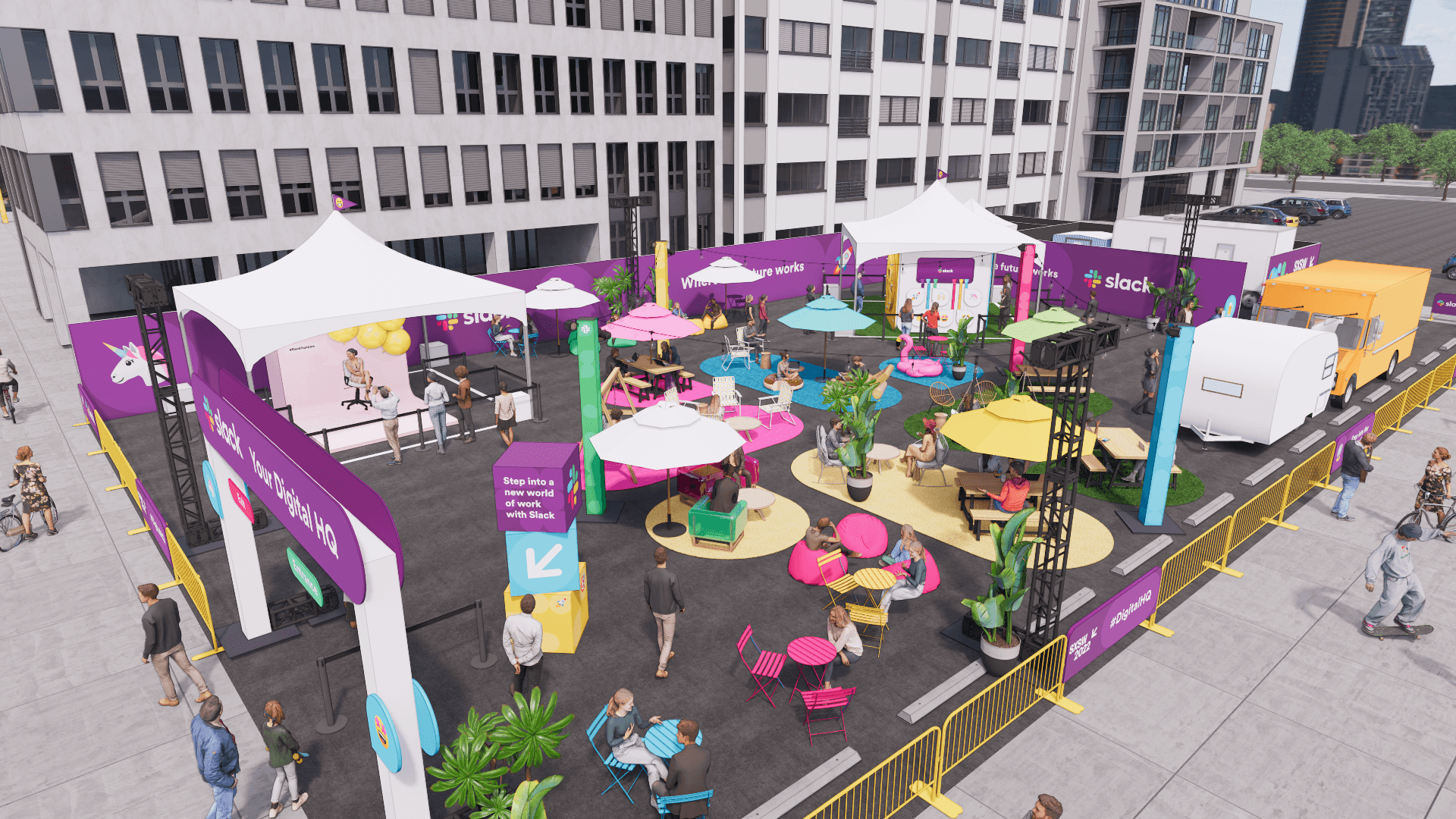 Rendered concept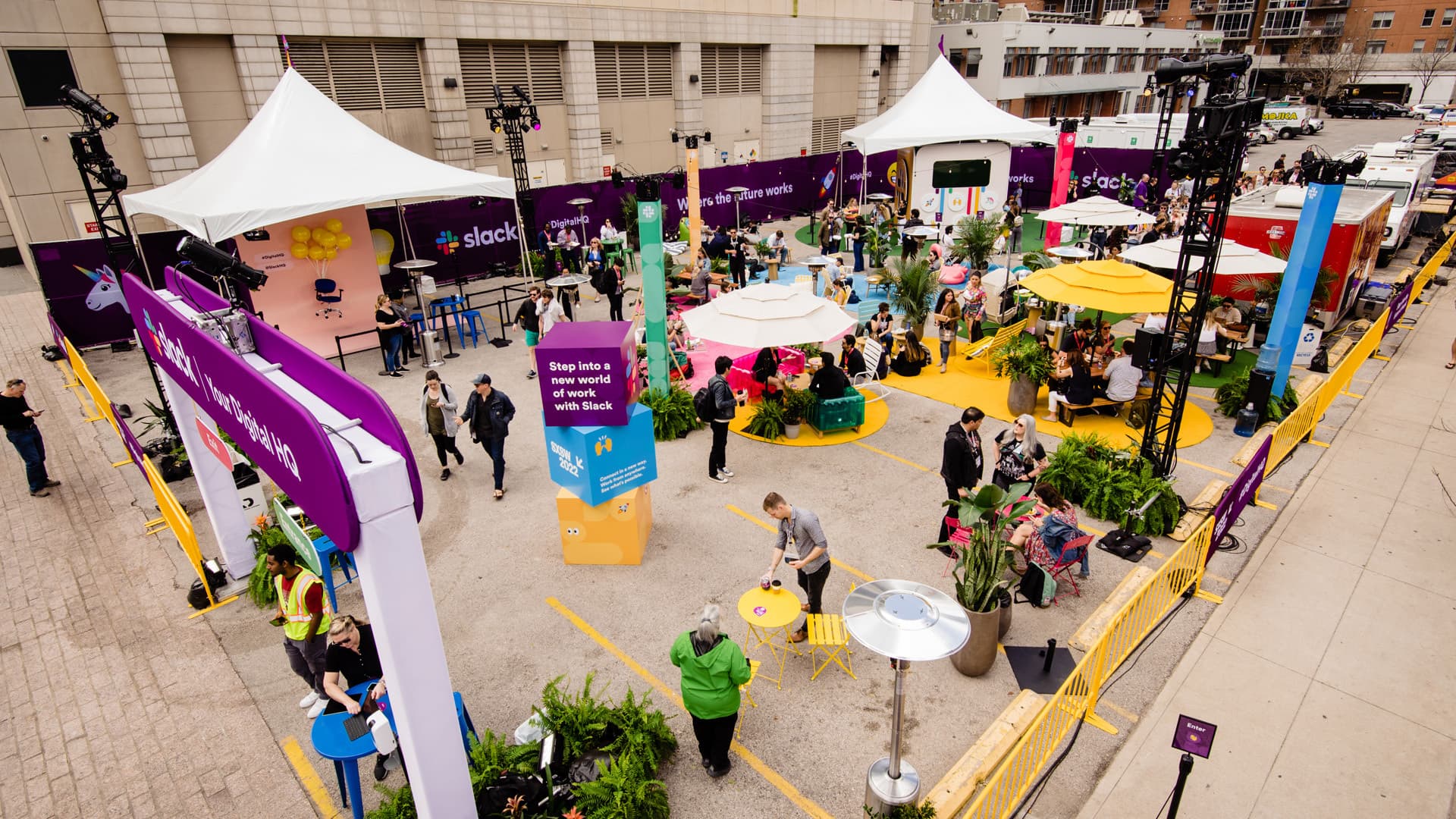 Final execution
Within the easy-to-navigate environment, visitors enjoyed fun, social-media worthy photo opportunities complete with backdrops that reflected Slack's "work from anywhere" and "collaboration made easy" philosophies. From there it was on to the interactive Digital HQube, with four sides each representing a different theme ("Work from Anywhere," "Welcome to Your Digital World" and more) allowing guests to explore several aspects of Slack. A lounge with inflatable furniture and sweet treats from the bakery truck engaged guests as they took to their favorite social media channels to share their experiences, boosting the idea that Slack is all about collaboration and sharing.
Two dynamic photo opportunities surrounding the main activation were instant attention getters. Vibrant, social media-worthy backdrops relayed a "work from anywhere" atmosphere and Slack's "collaboration made easy" philosophy—one even featured a larger-than-life fist bump, meant to demonstrate the power of working together on the platform.
Let's create exceptional together.
Exceptional work is more than just the banner we wave–it's our promise.
get in touch