Google
TRADE SHOW EXHIBITS
Assistant Playground
Taking CES Attendees for the Ride of their Lives
After successfully collaborating on the brand's previous re-entry into CES, Sparks helped tell the Google Assistant story and showcase the product's major growth in an "Only Google Can" way. To solidify the Google Assistant's stance as the marketplace leader, we built a two-story, 36,000 square foot "Playground" including a Disney-esque ride that immersed attendees in a what-life-could-look-like experience with Google Assistant by their side.
SERVICES
Event Production
Program Strategy & Measurement
Creative Strategy & Design
Digital Interactives
Content Design & Production
Fabrication & Logistics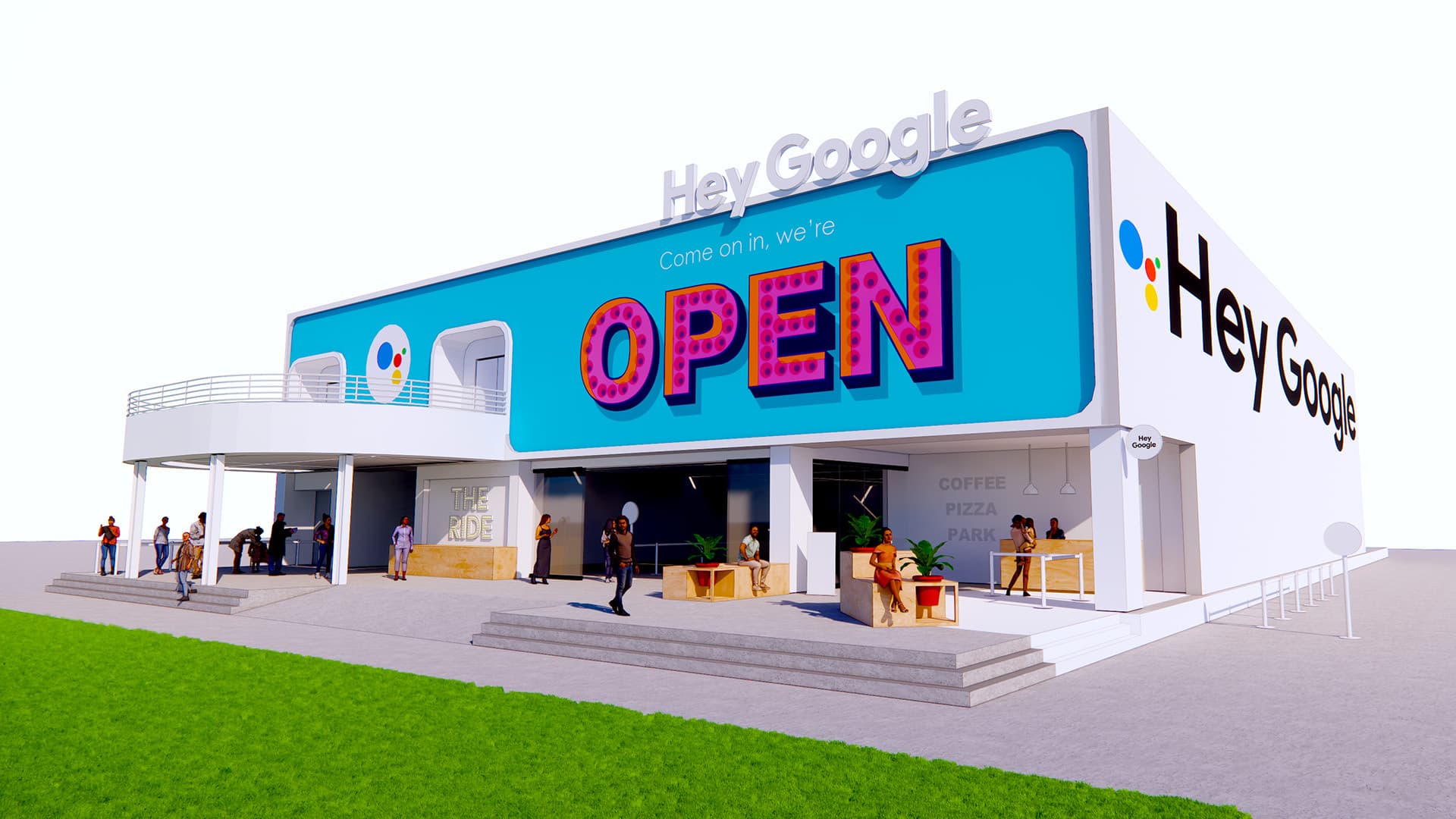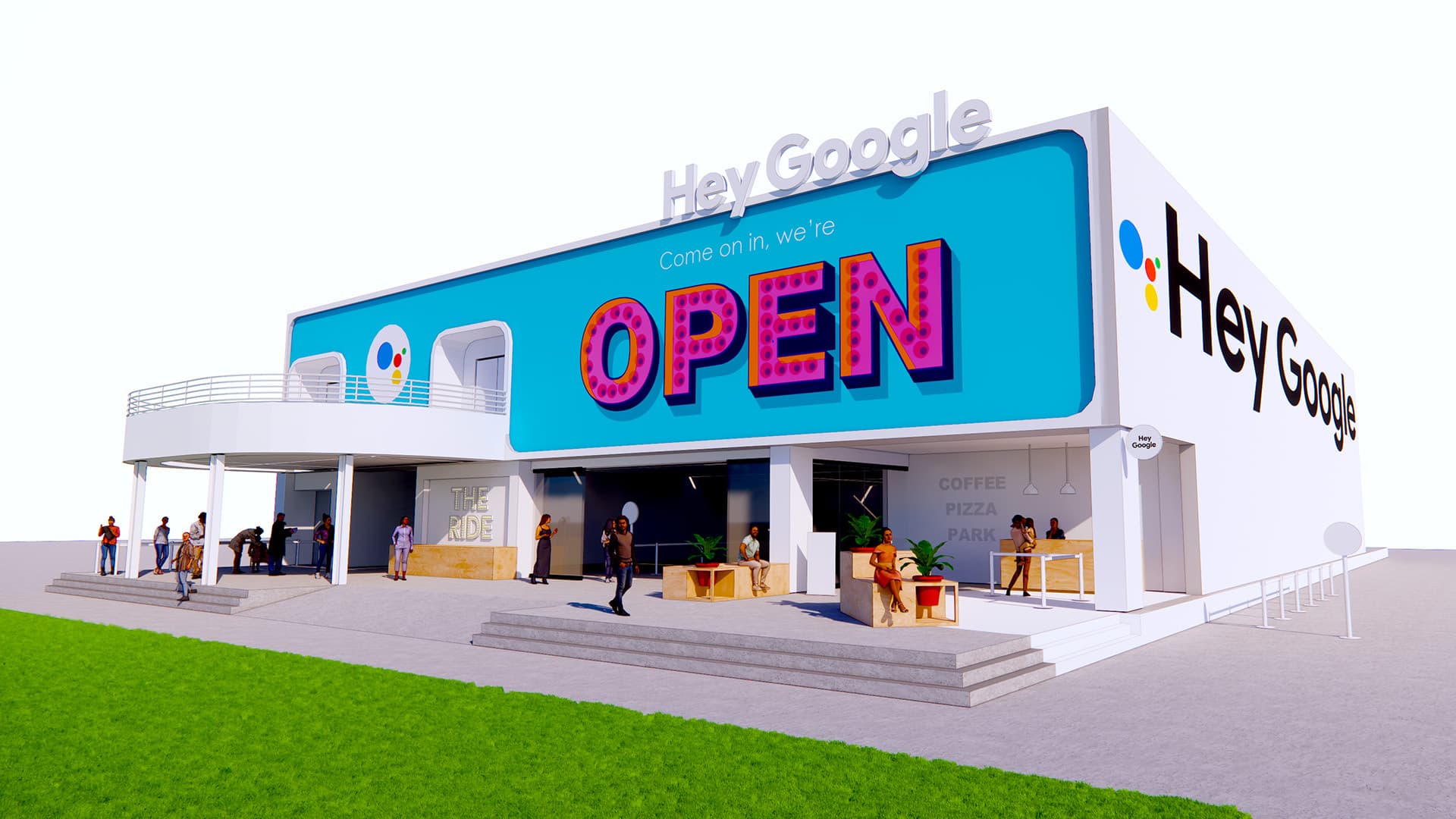 Rendered concept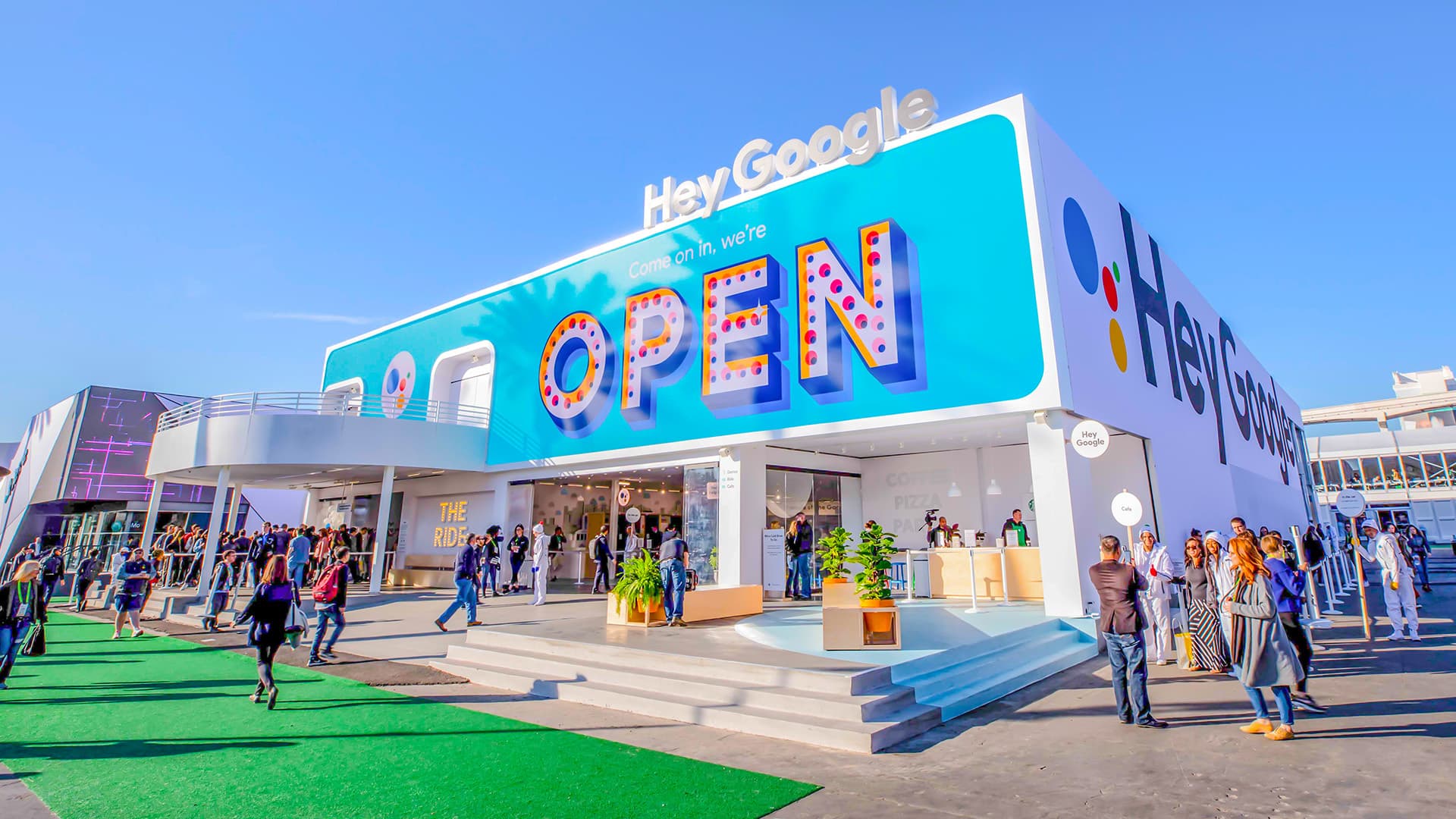 Final execution
The Assistant Playground not only highlighted the positive impact of daily use for the attendees but also showcased the partnerships and integrations between Google and other brands through live and digital demos strategically placed throughout the space.
In addition to The Ride and its interactive pre-and post-show experiences, the Playground also included a cafe, a programming studio, a device gallery that showcased Google creations and those of their partners, and several other hands-on engagements.
Relaxation and Nostalgia at the Cafe
Facing the main thoroughfare between the convention center and Central Plaza, the Cafe became a pop-up space rotating engagements with Assistant software partners, Pizza Hut and Starbucks. Upon approach, attendees were greeted by a massive LED screen highlighting current activities happening in the space. Attendees recharged and refueled with fun engagements like Starbucks handcrafted Nitro Cold Brews and Pizza Hut Pizza Parties. A dedicated networking space paid homage to past technology and gave attendees an opportunity to connect and unwind.
Made by Google
Friends of Google
Whether a partner is built-in, works directly with Google, or leverages a product, The Made by Google and Friends of Google showcases celebrated the one billion devices that use the Assistant. The Made by Google interactive displayed queries on an LED screen that coordinated with the products and caused geometric shapes to light up.
Friends of Google
Adjacent to Made by Google was a curated gallery featuring over one hundred "Friends of the Assistant" devices that work with Google Assistant or products that have Google Assistant built-ins including headphones, phones, watches, vacuums, and more.
Studio Programming
Assistant At Home
In the Studio, attendees enjoyed rotating content highlighting various use-cases for Made by Google products. Programming included celebrity chef Chris Cosentino using the Assistant in the kitchen, Vox Media's "The Verge" podcast reporting live from CES, product demos and workshops, guided meditations and a networking space for an invite-only industry happy hours.
Assistant At Home
A model house showcased how the Assistant is a reliable companion in all aspects of home life. The At Home tour was a scripted experience led by expert Google Guides featuring the Google Home Hub and Nest integration, a Google translate product demo, Assistant-enabled smart door locks, and more.
Life is a ride. Let's take it together.
In the words of our client: "Life is a ride. It's full of twists, turns stops, and starts." What better way to immerse attendees in the Google Assistant story than a ride-on experience that mimics the chaos of everyday life?
The Pre-Show Experience
As attendees approached, a carnival-inspired marquee streamed invitations to "The Ride," where attendees could queue up for the experience. Ready-to-ride VIP reservations allowed high-profile guests to skip the queue. Queued guests were treated to an amusement-park style pre-show including an interactive, animatronic Grandma who commented on attendee fashion and helped kick excitement into high gear. The queue then led attendees into a dark room where they were encouraged to capture and post the experience.
As stars twinkled on the ceiling, the pre-show set the story: planning a memorable extravaganza for Grandma's 90th birthday party amid the unknowns of daily life.
An animatronic sleeping husband snuggled under the covers, breathing softly as his wife worried about planning the party while getting ready for a business trip. As the narrator began his story, a projected silhouette of the wife showed her reminding her sleeping husband to pick up the cake.
After the pre-show, attendees entered the second queue, where they were assigned to train cars featuring custom Assistant molecules and interactive media. The Ride was divided into five zones:
Zone 1: Waking up/Getting out of the house Zone 2: Traffic Jam/Storm Zone 3: Patisserie/Singing Macaroons Zone 4: Dark Room (Pre-Grandma's Surprise Party) Zone 5: Grandma's Epic Surprise Party/Party Selfie Moment with Pixel
The Post Show Experience
After disembarking, attendees made their way to the post-show experience. Large screens displayed photos from The Ride allowing attendees to scan their badges to not only get a copy of their photos but redeem a free Google Home Hub from the online Google Store.
Adjacent to the photo wall, a large bakery case displayed hundreds of French macaroons while staff (dressed as French chefs, nonetheless!) passed out the tasty treats to attendees.
Results
36K

SQ FT OF ACTIVATIONS SPACE

493'

OF TRACK INSTALLED

130K

LBS OF STEEL USED

1,356

TONS OF CONCRETE POURED

13,581

ATTENDEE RIDES GIVEN

4,320

SLICES OF PIZZA CUT

2,454

CUPS OF COLD BREW SERVED

24,360

FRENCH MACAROONS EATEN
The Gumball Machine & Partners
Out-of-Home Advertising
Google also brought back the ever popular Gumball machine. Strategically located across from the Playground, the 18 ft. tall, larger-than-life gumball machine product experience features Nest thermostats, OpenTable gift cards, Headspace subscriptions, smart plugs, beanies and more. Google also engaged over 130 partners to create custom Assistant brand experiences throughout CES. Spread across LVCC, Sands Expo and Private meeting spaces, activations included LED brand integration, signage and product showcases as well as custom Assistant-branded demo booths.
Out-of-Home Advertising
Additionally, Google blanketed Las Vegas with 50+ OOH spots. Featuring the iconic "Hey Google" branding, the large scale advertising programs took over digital marquees at the LVCC, Fashion Show Mall, Harmon Corner, The Forum Shops at Caesars and a full sweep of all the MGM properties digital marquees. Google also activates three Las Vegas monorails cars with fully wrapped exteriors, interior light box advertising and audio buyouts highlighting localized queries including distance to the convention center and Las Vegas trivia.
Let's create exceptional together.
Exceptional work is more than just the banner we wave–it's our promise.
get in touch