A Connected Virtual Conference Experience
Every year, TIBCO NOW brings together prominent influencers, thought leaders, executives, engineers, developers, analysts, journalists, and more to share the latest technological innovations and strategies. Together, they examine the impact of these innovations and strategies on the future of business and society. In the wake of the pandemic, TIBCO NOW morphed from a live event into a completely digital experience.
Using our proprietary virtual platform VIRTU, we developed a custom virtual conference platform for TIBCO that delivers meaningful content and fosters connection and engagement among attendees, with an infrastructure that can be leveraged, updated, and modified for use at future TIBCO virtual and/or hybrid events.
SERVICES
Virtual Platform Design & Production
Program Strategy & Measurement
Creative Strategy & Design
Content Design & Production
Event Production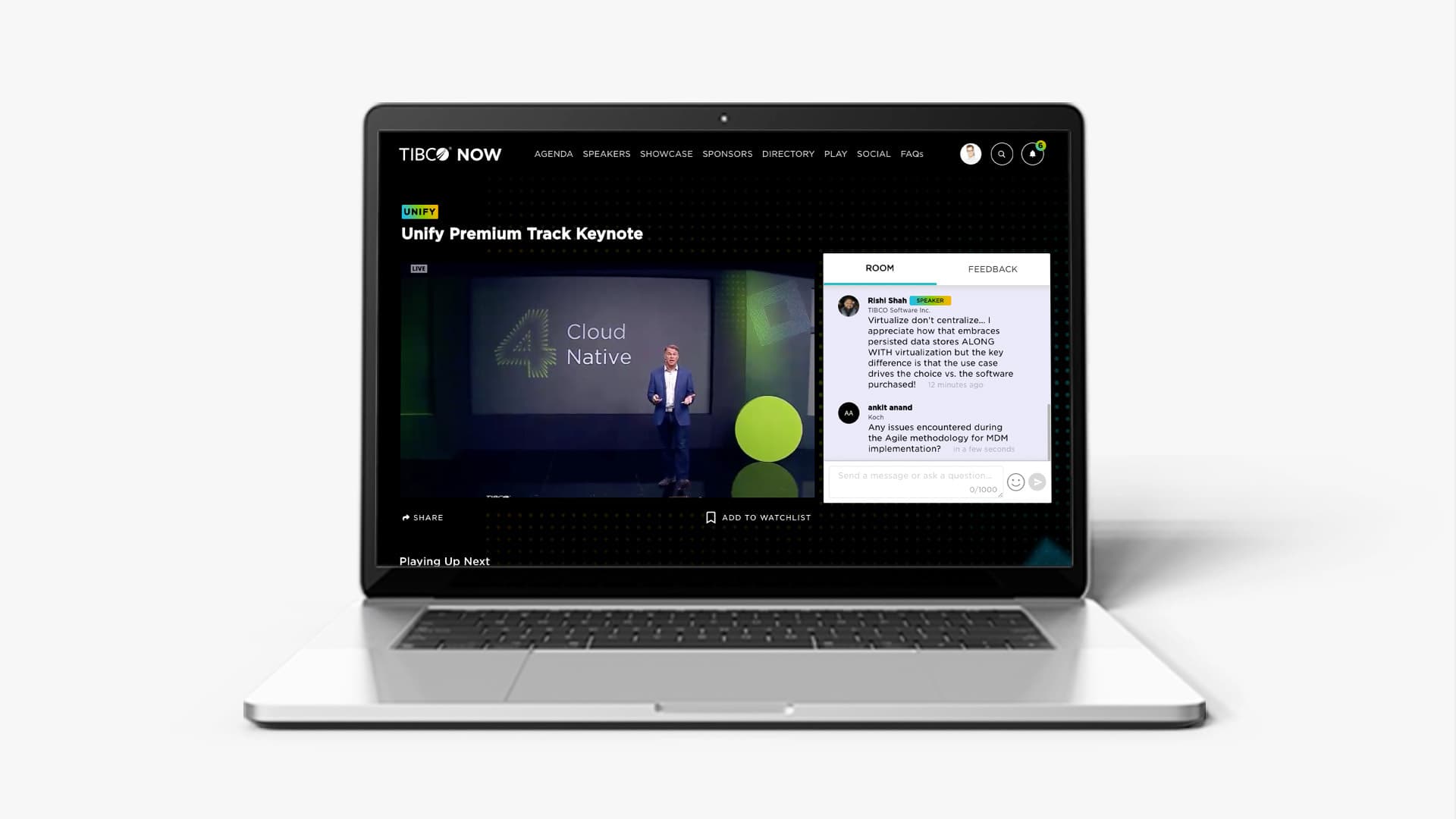 Limitless Content
Over four days, TIBCO NOW explored the limitless power of data with seven hours of Keynotes, over 70 separate breakout sessions, and 11 hours of product training. Utilizing our proprietary virtual platform VIRTU, we developed a custom virtual conference platform that provided 24-hour programming curated to 20 different attendee types across EMEA, LATAM, APAC, and LATAM.
The TIBCO NOW tracks focused on the ongoing innovation at TIBCO and the limitless success available for those exploring the depths of technology. Speakers included some of the world's most compelling thinkers and doers. Nobel Prize Winner Dr. Jennifer Doudna and Interplanetary Navigator Dr. Jill Seubert discussed what "limitless" has meant in their lives and its importance for our shared future.
We also heard from Michael Lewis, best-selling author of numerous articles and books, including Moneyball and The Big Short, who explored the power of data to reveal the world's hidden nature and how smarter decision-making sets data visionaries apart.
In addition to the core TIBCO NOW content, three premium tracks (Connect, Unify, and Predict) featured in-depth explorations into the most recent product introductions, insight into product roadmaps, deep dives into success stories, and significant opportunities to network with industry leaders, TIBCO product managers, and TIBCO executives.
A Custom User Experience
To support TIBCO's need to deliver a fully connected experience in a digital format, (all the while creating a memorable attendee experience), Sparks built upon the previous year's deployment of our proprietary digital event platform, Virtu, with a goal of enhancing the attendee experience through the implementation of new creative design visuals and the integration of new features that further encourage attendee interactivity.
The platform's multi-channel agenda hosted hundreds of live and pre-recorded TIBCO sessions around the globe and around the clock. Attendees could select streaming sessions from a host of channel topics, as well as build a personal calendar of sessions they'd like to watch. Additionally, they networked with sponsors or TIBCO demo experts on dedicated content pages and entered to win prizes through the passport program, which tracks and rewards visits to the sponsor and demo pages. These interactive features all contributed to a dynamic virtual attendee experience.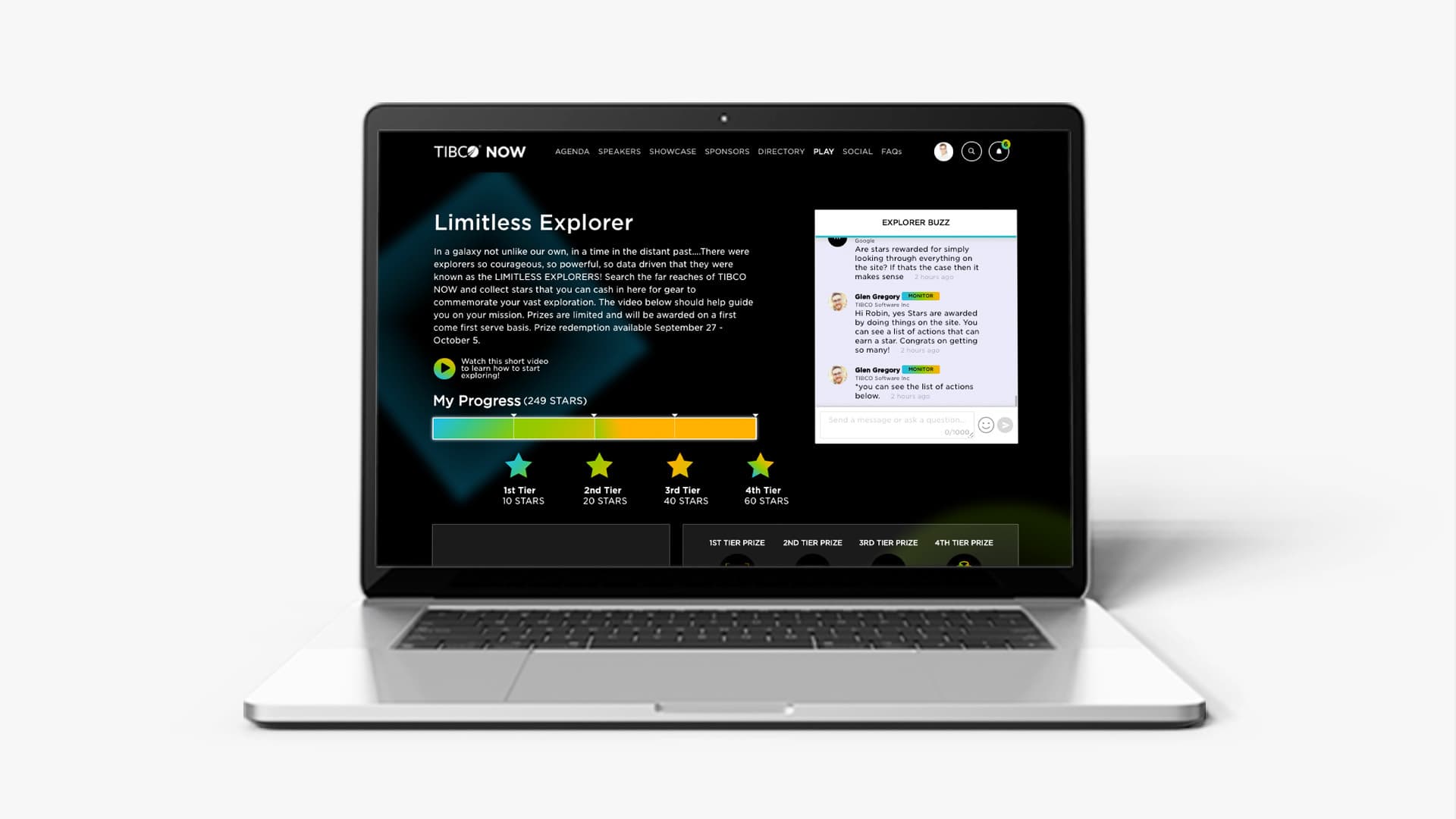 Highlights
TIBCO's global annual user conference event goes virtual.

Custom event platform built on Sparks' proprietary Virtu framework.

7 hours of Keynotes, 70 breakout sessions, and 11 hours of training in a multi-channel interface.

Robust chat and networking tools, including polling and surveying.

Attendee profile builder, personalized attendee calendar, and passport rewards program.

Dedicated sponsor and TIBCO demo expert pages with resources and chat networking.
Let's create exceptional together.
Exceptional work is more than just the banner we wave–it's our promise.
get in touch