Workhuman
CONFERENCES
Workhuman Live
Sharing Big Ideas with Forward-Thinking Leaders
The annual Workhuman Live conference brings together professionals from across industries to discuss how to make work more human. Held in Nashville, this year's event attracts dynamic speakers such as George Clooney and Viola Davis and executives from global giants like Marriott and Twitter to share their experiences and learnings.
Along with the insightful sessions, Workhuman Live offers an immersive space that encourages attendees to introspect, interact and exchange ideas on important topics like gratitude, diversity and inclusion, and other pressing issues shaping the future of work.
SERVICES
Event Production
Strategy & Measurement
Creative Strategy & Design
digital Interactives
Content Design & Production
Fabrication & Logistics
Since its inception, Workhuman Live's audience, which includes leaders Microsoft, Walgreens, and LinkedIn, has grown over 20 percent year over year.
Now, with over 3,000 attendees and a net promoter score of 61%, more than half of attendees would refer others to the Workhuman brand.
While event awareness is always a goal, Workhuman also wants to ensure that the audience gains a deeper understanding of the relationship between the cultural movement and the company's technology. In our work with Workhuman, we generated a deeper understanding of the brand values that power the conference and the products that put the vision into real-life work environments.
Rendered concept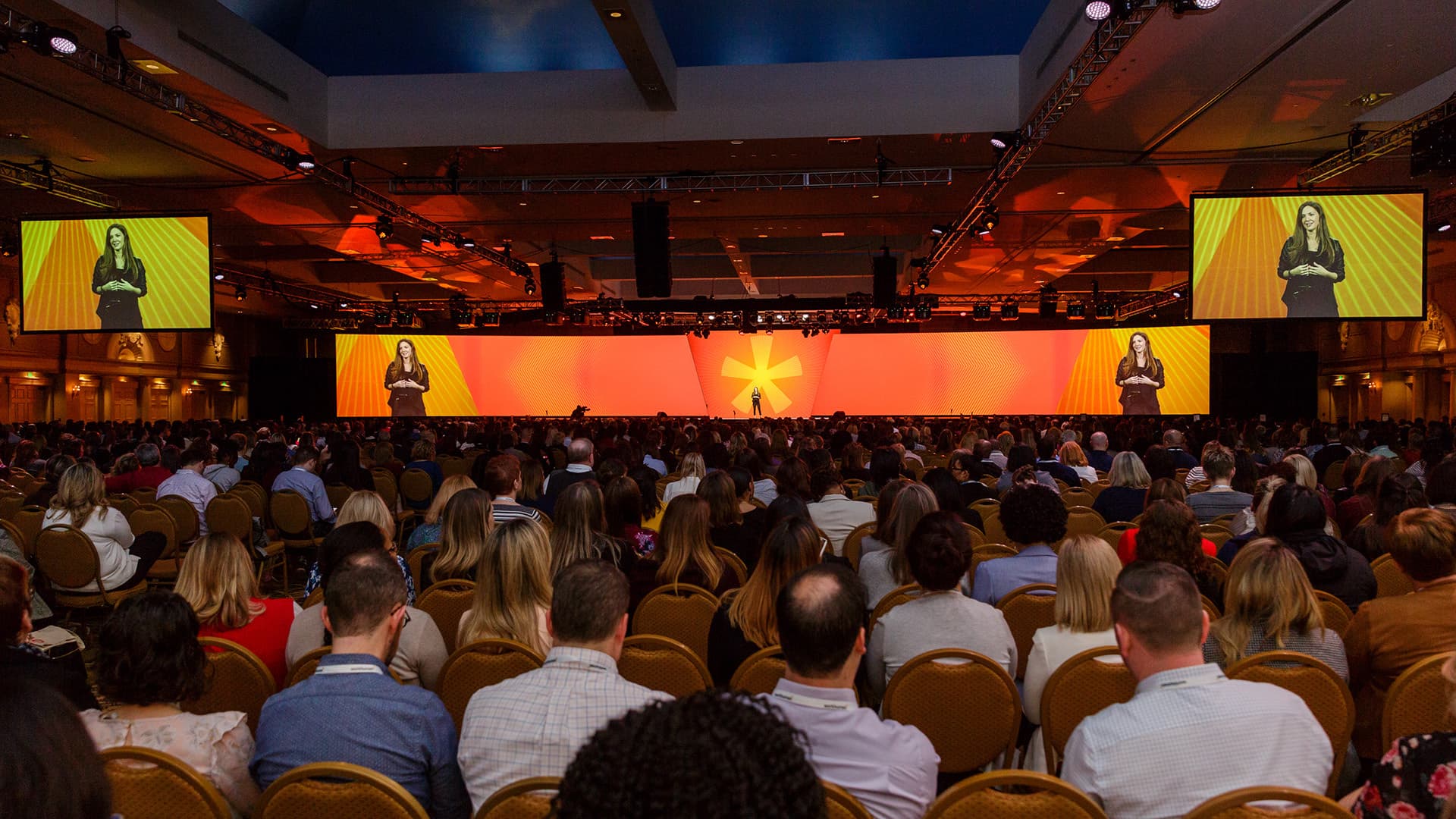 Final execution
Creative Approach
Our approach included concepting and creating an open conference space that allows attendees to take what they learn in various sessions and put philosophies into practice. This included the design of the main exhibit hall, general session, breakouts, demos, lounges, decor, F&B, and a customer award dinner.
In addition to the main event, our goal was to create meaningful opportunities for attendees to connect and network, such as during welcome activities, morning yoga, after breakout sessions, and on social breaks in Workhuman Central, the event's epicenter, which provided a place for attendees to gather amongst thought-provoking activations, purposeful giveaways, and education about the latest Workhuman products.
Several activations within the space highlighted how technology can connect people to each other.
The most striking visualization of the Workhuman product was the Gratitude Bar, the centerpiece of Workhuman Central. Here, attendees nominated fellow Work Humans to receive recognition in authenticity, connection, positivity, and mindfulness. Chosen winners selected the charity of their choice and received a colored GloboStar to hang on a series of vertical installations that surround a sculptural in the center of each Gratitude Bar. The installations became progressively more populated over the course of the conference.
Let's create exceptional together.
Exceptional work is more than just the banner we wave–it's our promise.
get in touch