So You Think You Can Build?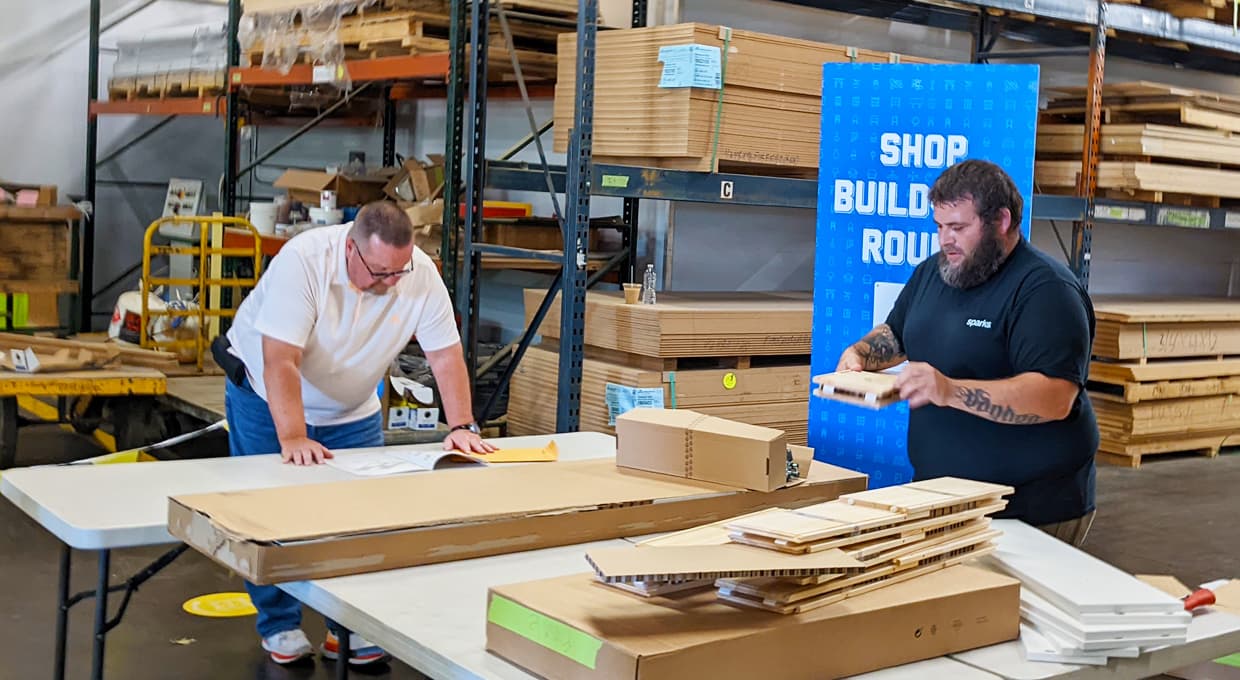 Does Sparks have the best builders in the business?
We think so. Thirty-six builders at six manufacturing locations across the country proved their mettle in an epic battle on August 18th called "So You Think You Can Build?" The brainchild of German Montalvo (above, right), the competition featured three rounds of increasing difficulty, during which employees raced to be the first person to finish building an Ikea product. Scroll down to see who took home the "master builder" trophy and the shop cred that came with it.
Round One
In the first round, contestants had just 30 seconds to look at a photo of a BILLY bookcase before they put it together—without instructions! The three fastest finishers from each location moved on to round two.
Round Two
The second round featured a LENNART cart. Competitors had a photo of the cart for reference, but no instructions. During rounds one and two, builders competed against other builders in the same location. The fastest finisher in each location moved on to the finale.
The Grand Finale
Regional champions faced off in the grand finale, which was live-streamed. The final round featured the IDANÄS six-drawer dresser. The GMs read the instructions to the builders as they worked.
Even with some penalty time, it was too close to call between Chicago and Philadelphia and the competition ended in a tie. Congratulations to overall winners Cody Kruckenberg with assistance from Bill Massengill in Chicago and German Montalvo with assistance from Chuck McCloskey in Philadelphia. "I'm proud I was able to bring this idea to Code 10 and they ran with it," said Montalvo. "I can't wait for next year's competition."
Congratulations to the regional office champions as well: Sean Javellana at 3D Las Vegas; Keith Mclean in Atlanta; Alex Merchan in Sparks Las Vegas; and Matt Simmons in Fort Wayne. Winners received gift certificates and all finished furniture was donated to "Habitat for Humanity." Thanks to everyone who participated, and we look forward to hosting the competition again next year!