IT'S ALL ABOUT THE PEOPLE
A diverse team of thinkers, creators, and doers, our US, APAC and EMEA-based Sparkies are the magic-makers behind everything we do.
Behind the scenes of our culture reel

Sketching is a breath of art

Teamwork is the fuel to success

Creativity is inventing, experimenting and having fun

Creating moments and capturing memories

Good ideas start with coffee, great ideas start with teamwork

We don't sweat, we sparkle

Taking it to the next level

Maintaining the things that matter

Making moves in the NYC office

Epic works require epic people

Nothing can shake the smile on these faces after EMS success

Ice cream is the answer, no matter the question

Coworkers who play together, stay together

Cleaning up the strikes with Sparks NYC

All up for new adventures

Paris is always a good idea, especially during the holidays

The creative staff hanging out at a Code 10 BBQ
code
10
Code10 is our credo, our mantra, our guiding light and one true north. It is our commitment to integrity that informs every decision we make.
01

Do the right thing.

Integrity is a defining quality of our people. We hold ourselves accountable. We don't take shortcuts.

02

Question everything.

We don't make assumptions and we welcome hard conversations. There is always a better way, which requires challenging the status quo.

03

Embrace change.

Nothing remains constant. Stagnation is decay. Either commit to continuous evolution, or watch others pass you by.

04

Details matter.

Every detail contributes to the bigger picture, while details missed will sabotage the overall experience.

05

Challenge provides opportunity.

If it was easy, anyone could do it. The harder the challenge, the bigger the opportunity to both grow and distinguish ourselves from the pack.

06

Think unconventionally.

Innovation occurs by challenging broadly accepted assumptions, requiring a thought process that goes beyond open-mindedness.

07

Be a service legend.

Legends and legendary stories live forever. They inspire us.

08

Kindness and respect, always.

Being nice costs nothing and benefits everyone. People want to work with nice people. People give nice people the benefit of the doubt. There is simply no reason not to be nice.

09

Be proud but never satisfied.

Perfection is unattainable, but if we strive for greatness, we may catch excellence. Aim high.

10

Work should be fun!

Life is short, and we spend a lot of it working. Enjoy it.
CODE 10 COMMITTEE
Work should be fun
The Code Ten committee is our lead employee-led culture initiative. This group hosts company-wide engagement activities to reinforce and celebrate the unique personalities, creative talents, and competitive nature of our people.
BE YOU
A culture of inclusivity
Diversity in people and ideas drives our success. BE YOU, our employee-led DE&I group, champions our efforts to mitigate biases and advances our mission of providing an inclusive workplace so that all sparkies feel at home.
SPARKLERS
Advocates for all
Pride is a year-round focus. The Sparklers, our employee-led LGBTQIA+ group, advocates for a more visible LGBTQIA+ experience and provides our community with educational opportunities and an open forum for discussion.
WOMEN IN EXPERIENTIAL
Empowering equality
Women are half of our workforce. Our WIE initiatives help female sparkies obtain the skills needed to advance and excel. Internally and externally, our annual WIE events encourage women to connect, learn and grow.
SPARTANS
Creativity is our core
We are all creatives at heart. Our Spartans ERG, focused on various disciplines within the visual arts, enables and supports the professional education of its members through monthly instruction, training and evaluation.
doing more good
Community Partnerships

We believe in the value of moving forward by giving back. We have a long, proud history of charitable giving and community support. From local events to nationally recognized initiatives, direct funding to volunteerism, our entire agency fosters a shared commitment to generous humanitarianism, and we encourage all employees to actively take part. The list of organizations we support is diverse. Some relationships are long-form, like our support of the Children's Scholarship Fund, Abramson Cancer Center, Unite for Her, the Police Athletic League, and Feed the Children. Others are driven by the request of our employees and the identification of specific areas of need within our other local communities.

Sustainability

We know that we must progressively reduce the environmental impact of our operations, especially the amount of energy and water we consume and the amount of waste we generate. Our leadership team continuously integrates environmental considerations into core business decision-making at the operational and project levels. We continually identify and implement ways to conserve natural resources, use sustainable materials, prevent pollution, and reduce waste.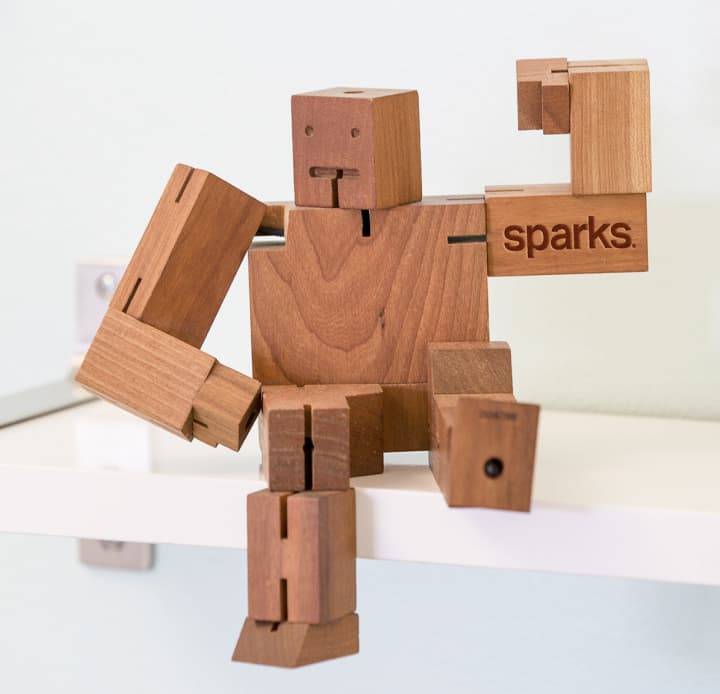 come hang with us
We're always looking for new sparkies