Helping Developers Push Technological Boundaries
For a few days every year, Google I/O takes over more than 10.5 acres within the Shoreline Amphitheater property in Mountain View, CA, bringing together over 10,000 developers from around the world. The event includes in-depth talks, immersive hands-on learning with Google experts, and an exclusive first look at Google's latest hardware and software products and features. What makes the I/O event even more exciting? Its format.
To give developers the opportunity to experience Google's new developer products in a memorable way, Google partnered with Sparks to create a dynamic outdoor festival environment designed to empower developers through content, access, connection, and excitement.
SERVICES
Event production
Strategy & measurement
Creative strategy & design
digital interactives
Content design & production
Fabrication & logistics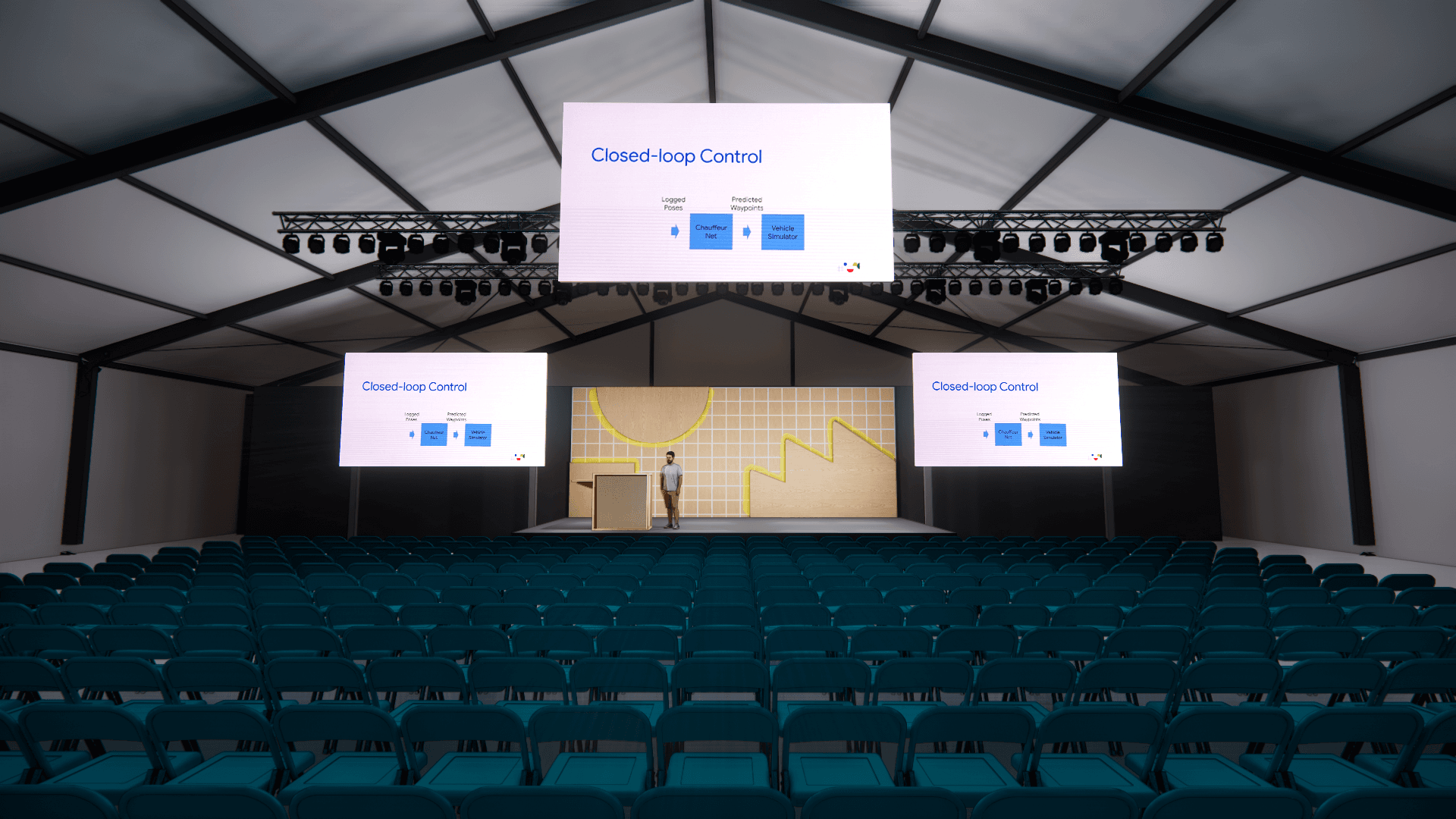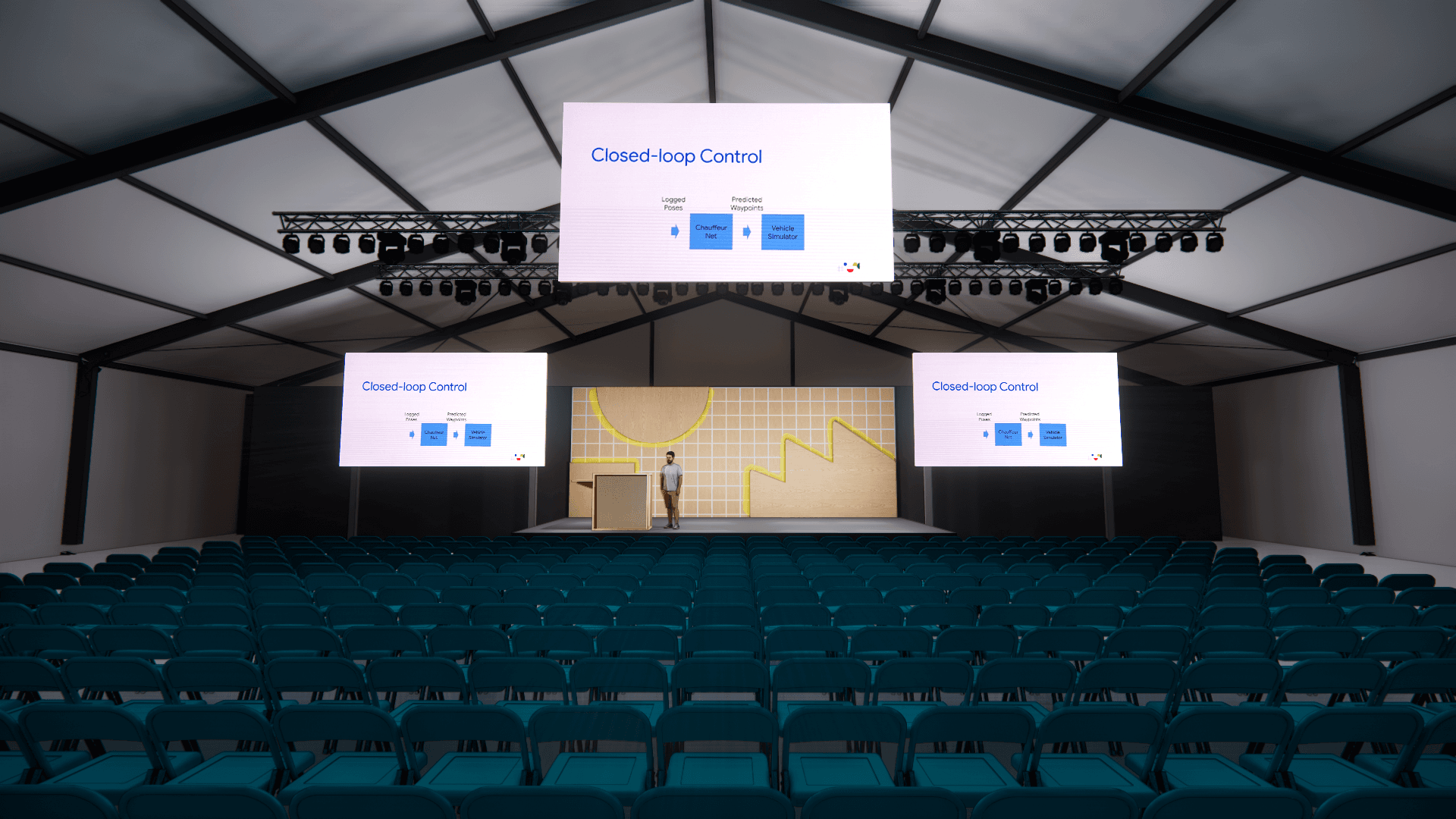 Rendered concept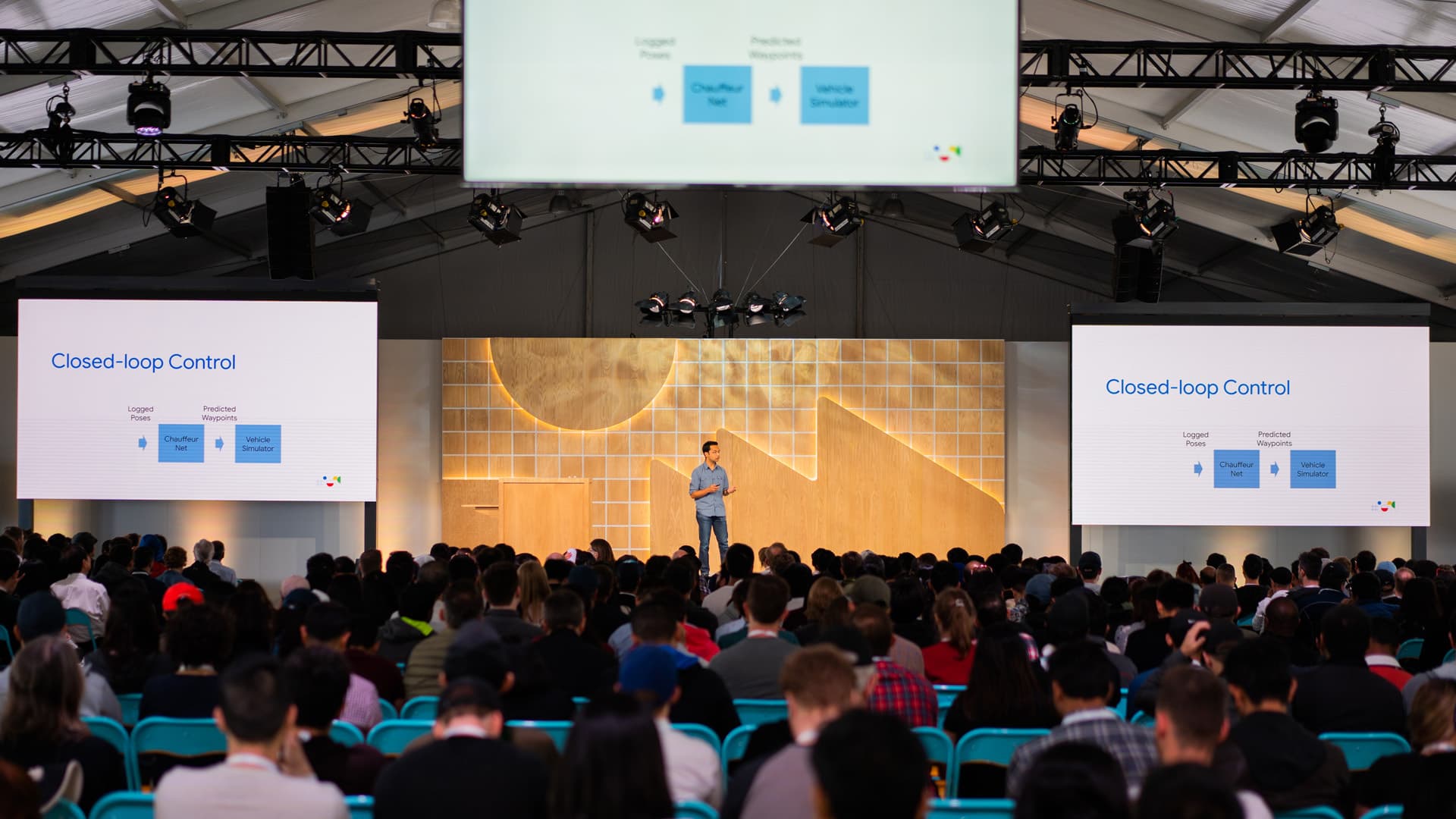 Final execution
Vibrant, fresh, celebratory, boundary-pushing – these are just some of the ways attendees describe Google I/O, which houses over 136,000 sq. ft. of interactive elements.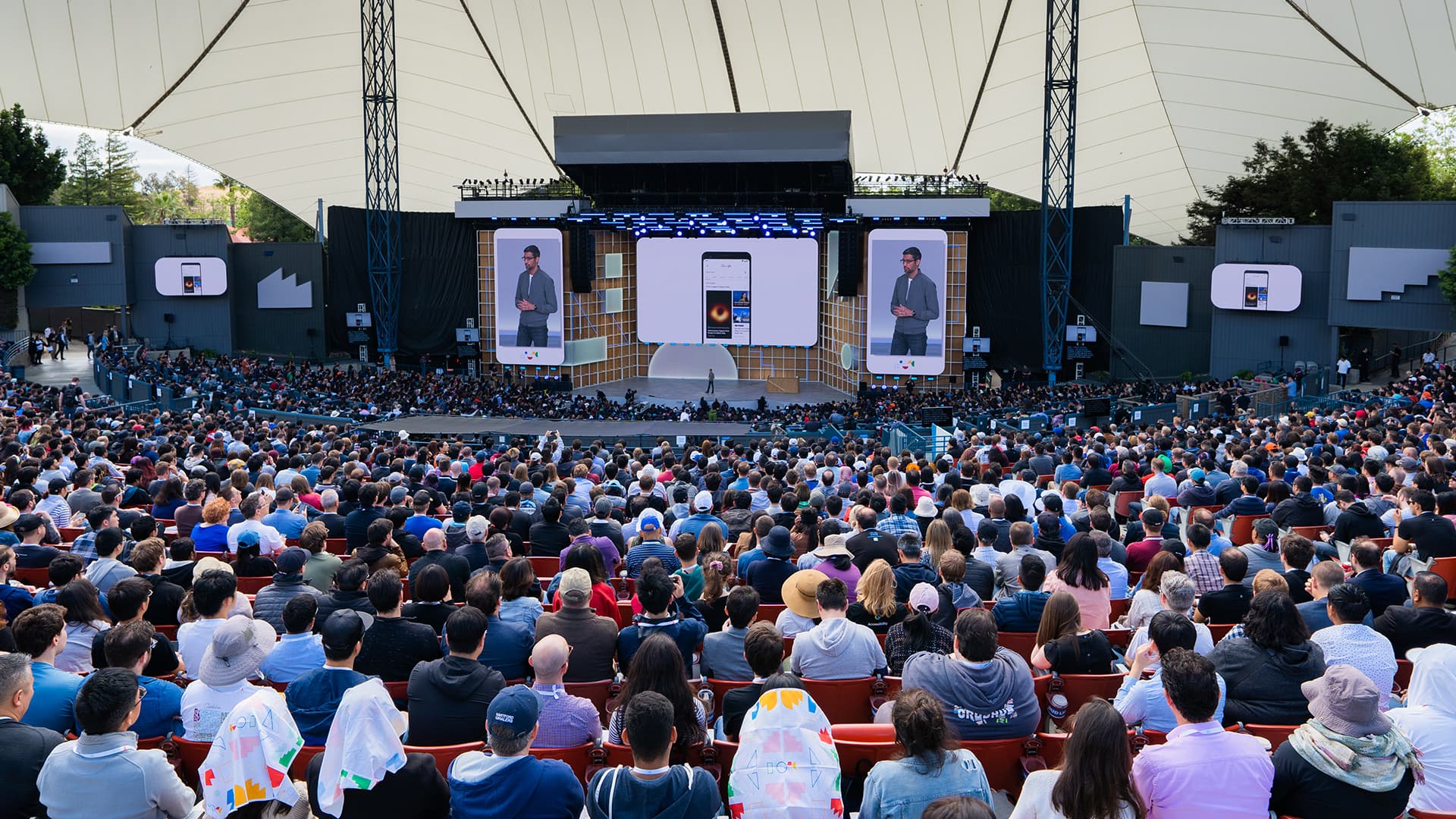 The Experience
The event's vibrant stomping grounds generate excitement among attendees, all the while highlighting Google's new discoveries and technological breakthroughs.
With over 20,000 sq. ft. of exhibits and more than 80,000 sq. ft. of classroom space, I/O showcases how far Google has come and what it's all about — a rallying cry to continue pushing the boundaries of what's possible.
Other notable elements? Aside from being more eco-friendly, the event features AR technology "Easter Eggs" sprinkled throughout, as well as multiple art installations, making for a totally multi-sensory experience.
Eight stages are built to showcase multiple breakouts throughout the multi-day event. Attendees can also make their way to nine domes and air-clad structures (aka Sandboxes) to demo and experience Google's latest products.
I/O attendees continue their journey with a stroll along "The Boardwalk," which houses interactive art installations as part of the I/O Arts Program, Lightning Talk discussion sessions, and an I/O broadcast studio.
A 5,918 sq. ft. garage offers a spot where attendees can take in a mix of breakouts and games, office hours to consult with Google experts, and Codelabs where "coding is life."
Overall, the Google I/O campus houses over 3,099 sq. ft. of space for food alone, 4,035 sq. ft. of registration, 11,567 sq. ft. of porches, a 6,456 sq. ft. breezeway, and another 20,000 sq. ft. of back house structures.
The Sandboxes
Always a focal point, the event's standalone, geodesic domes and sleek air-clad structures — aka Sandboxes — are the perfect place for attendees to learn, explore, and directly interact with new Google products and technology via interactive demos, physical installations, and more.
Cloud At the Cloud — CICD dome, a visual metaphor explores Google's setup for CICD (Continuous Integration, Continuous Delivery) during app deployment on the Android platform. A large monitor displays copy and graphics, while a scenic train display communicates the overarching narrative. The dome's Lego train is designed to represent an update that needs to go through the Build, Test, and Deploy processes. Each fork in the track represents a different sub-process within the CICD sequence that needs to be completed. If a failure is triggered at any point, the track reroutes the train back to the beginning to start the process all over again. When there are no errors throughout the CICD process, the train completes its journey, symbolizing entry into the Google Play app store. Animations and graphics on Billboards (large Pixel XL phones) and large screens provide more details to help viewers understand the complete process.
Web - A beautiful feature housed within the Web Sandbox? A living wall. The collaborative, user-generated art mural showcases the ability to run Linux apps on Chrome OS — a dream interactive for developers. Attendees can modify parts of the mural's elements — trees, flowers, plants, butterflies, fireflies, and even Tux, the penguin — by changing their respective JSON files. Each change pushes a new vignette into the digital mural. Attendees perform modifications through a custom command-line tool, via terminal (vim), or VS code.
Lighthouse - Also within the Sandboxes, attendees can explore Lighthouse, a Chrome extension that audits a website and gives insights on how to improve key functions including SEO, best practices, performance, and accessibility.
Users can input a URL via a touchscreen to trigger a lighthouse audit of the aforementioned functions and a report on its build quality. The best part? Five scenic lighthouses flank the central touchscreen, communicating the quality score through their lights with green indicating a high performance and red signaling a weaker performance.
Google Maps - An app built using Google Maps and Google Cloud Functions allows users to pick the right route to Shoreline Amphitheatre. Users get to learn all about the benefits of building products with Google Cloud Functions in a way that is completely interactive and most of all… FUN! To note, Cloud Functions use serverless cloud infrastructure that scales up and down based on user demand and they are charged based on that usage only. This, in turn, leads to more efficiency and savings over traditional server-based cloud products.
Users pick an origin point on a touchscreen, then to choose a mode of transportation, they pick up a model of a car, bike, pedestrian or bus and place it on an RFID scanner. Users can then use the slider to increase or decrease the RPS (Requests per Second). A cost counter shows the cost incurred by the user by running this app built on serverless Cloud Functions. By tapping on the touch screen users can see a breakdown of costs as well.
Office Hours and Codelabs - Office Hours gives attendees the opportunity to meet one-on-one with Google experts and get answers to all their technical questions. And over at Codelabs, developers get hands-on experience at Google's ready-to-code kiosks as they learn about the latest and greatest Google technologies.
When it comes to Google I/O, the nightlife is on point!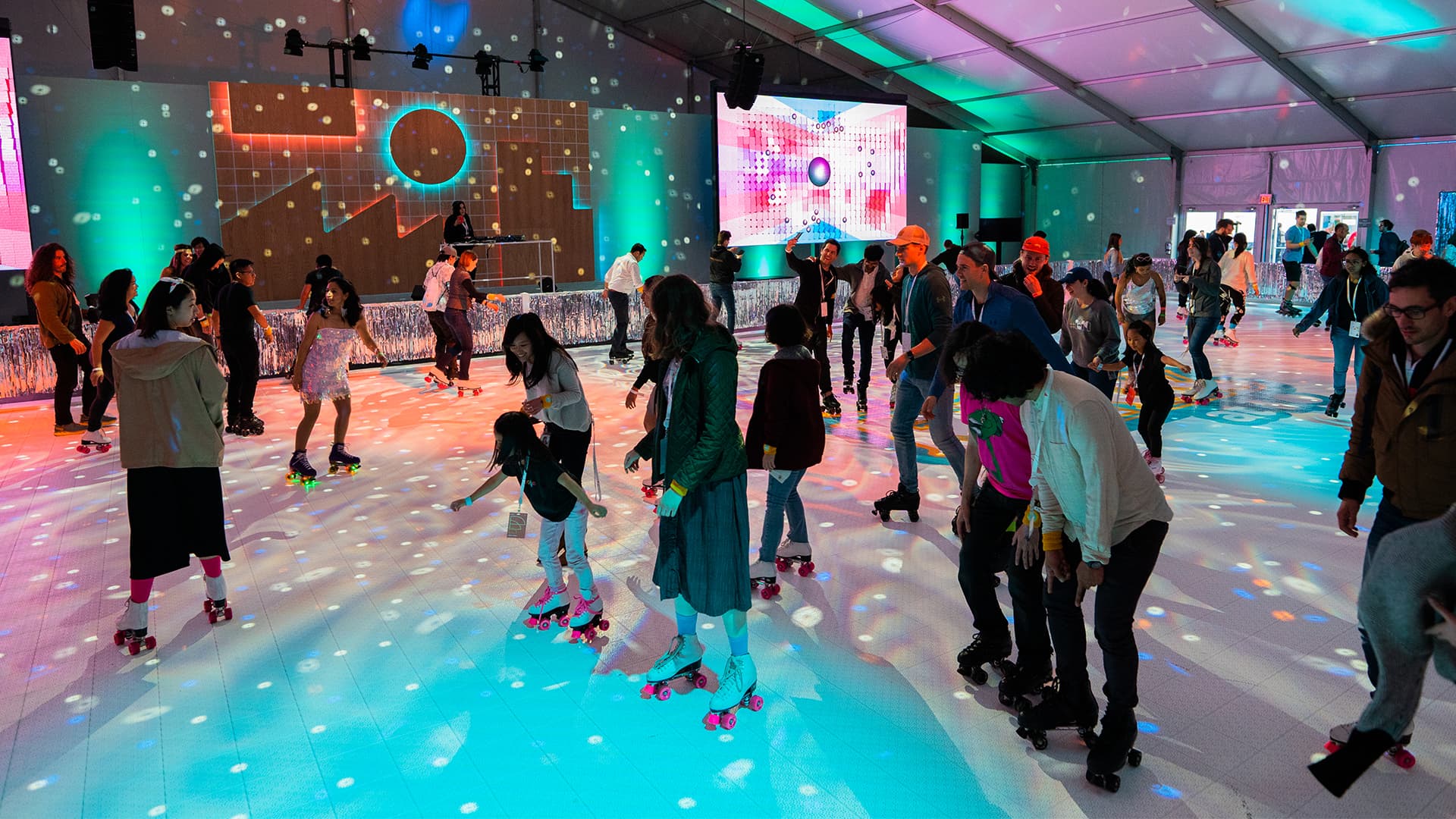 I/O After Dark
After the exhilarating keynotes, Codelabs, and sessions wrap up, attendees are invited to wind down and enjoy the night with one another, and the options are as endless as they are fun! As Day 1 comes to a close, the I/O Landmark stage comes to life in AR, complete with performances by NVO and East Bay Brass Band. What's more, back for its 6th I/O in a row, the ever-popular comedy show, Speechless Live (called "comedic gold" by the Wall Street Journal) takes to the Amphitheatre to deliver a performance featuring I/O speakers that is truly hilarious.
Other standout elements of Google I/O After Dark? The I/O Ink Tattoo Studio, where attendees can get (and show off) temporary tattoos. There's also a performance by the fantastically surreal performance group, The Fungineers, filled with improv, freestyling, and oh did we mention, ice cream — always a win.
The options don't stop there – each Stage transforms into an avenue of fun — from a 70s-themed roller disco (The Rink) to SP a T I AL — an immersive 4DSOUND audio environment dedicated to multi-sensory and multimedia performances.
After Glow features the talents of Quixotic, blending technology and cirque nouveau — complete with a psychic and a fun light photo booth. ARcade takes attendees back to the days of classic video games, featuring every original arcade game you could ever dream of, with a special AR tribute to the classic Google game — Dino Runner. And — did we mention the Wi-Fries available in the Community Lounge? Yes, please!
I/O After Dark Night two features a performance at the Amphitheatre from the legendary band, The Flaming Lips, complete with a rainbow-colored unicorn and an AI-assisted performance with musical fruit.
Let's create exceptional together.
Exceptional work is more than just the banner we wave–it's our promise.
get in touch