Salesforce
TRADE SHOW EXHIBITS
Salesforce AWS re:Invent
Seeing the Forest For the Trees
Salesforce believes that technology can be fun and friendly; that technology can build stronger relationships. The brand's AWS re:Invent exhibit needed to bring this sentiment to life, evoking a sense of adventure and possibility while spotlighting the partnership between Salesforce and AWS and its benefits to the global cloud computing community.
With Salesforce's signature "Trailhead" campaign as our design inspo, the 3,500 sq. ft. interactive experience filled with lush greenery, rock formations, and a gorgeous LED wall depicting a sun-speckled forest made the advanced technological solutions of AWS and Salesforce seem as easy as a walk in the park to understand, or in this case, a hike in the woods.
SERVICES
Exhibit & Expo Services
Strategy & measurement
Creative strategy & design
digital interactives
Content design & production
Fabrication & logistics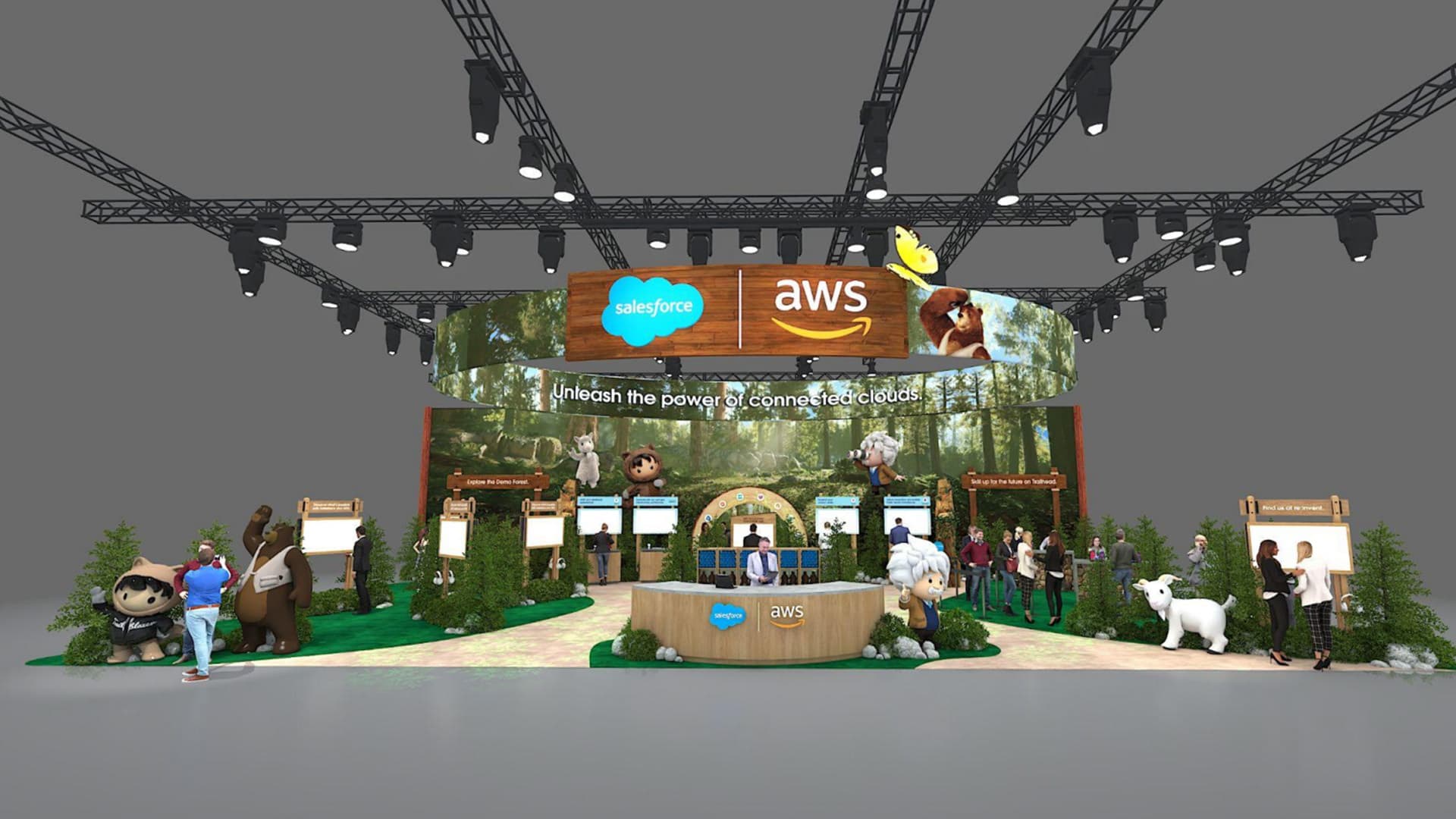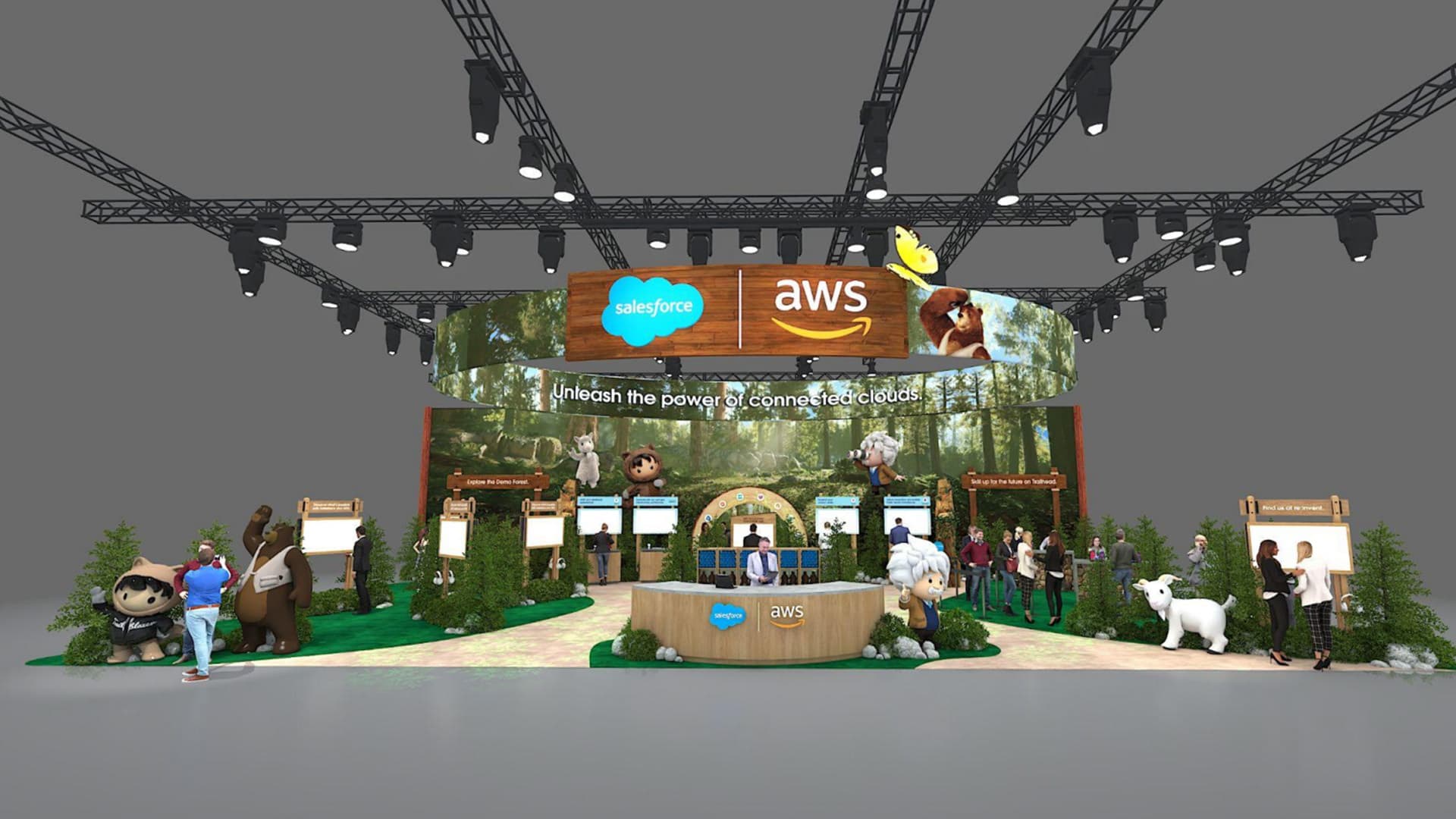 Rendered concept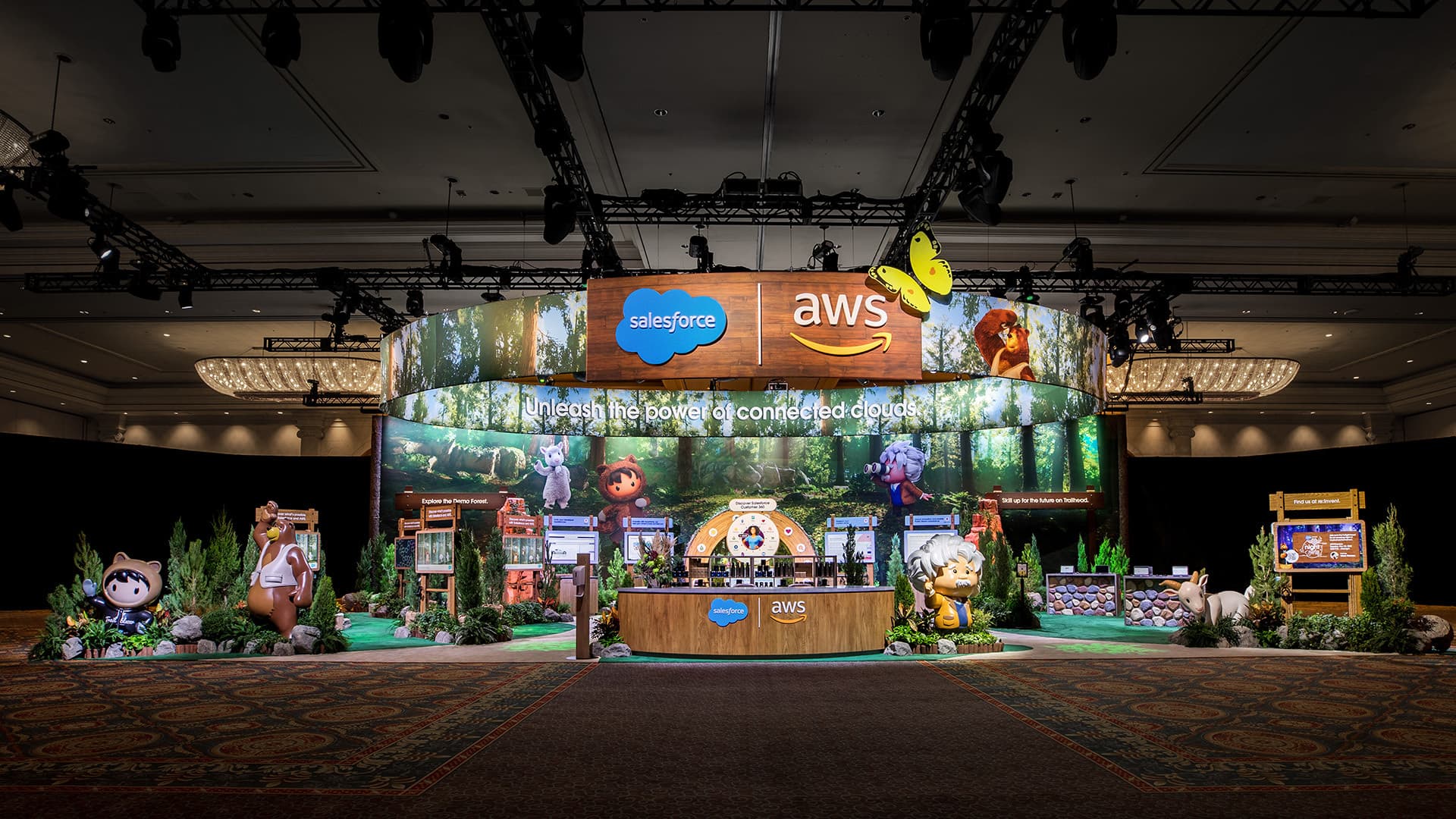 Final execution
Visitors were visually transported from the show floor to the great outdoors when they entered the space. Salesforce's beloved characters, including Cody, Astro, Cloudy and Einstein, were featured throughout the space, visually assuring guests that product information would be clear and user friendly while serving as backdrops for social photo opportunities.
In keeping with the company's focus on "adventure," attendees had the opportunity to choose their own journey within a "Demo Forest" that included eight interactive product stations. Each station had a touchscreen display where attendees selected from one of six options to watch a video about a specific product.
The centralized Customer 360 station allowed attendees to learn how the combined reach of AWS and Salesforce Customer 360 makes it easier for organizations to seamlessly deploy AWS's voice, video, and AI services natively with Salesforce business applications. Trailhead Stations gave attendees the option of learning valuable skills and putting their knowledge to the test to earn free Salesforce certifications.
Private meeting spaces and a lounge were perfect for more intimate interactions and networking. After the event, virtual content was available for two weeks, allowing for continuing education and post-event engagement.
The Adventure Didn't End on the Show Floor... Welcome to the Salesforce Night Owls Party!
Salesforce wowed attendees into the evening with stellar entertainment and a beautiful, outdoor venue that provided the perfect COVID-safe space to relax and meet new people.
Fun social event for 300+ attendees in a Balinese-inspired multilevel venue

Safe and effective covid testing throughout

Memorable moment: Laser, bubble and snow show

Trailhead characters roaming the venue

Synchronized Swimmers + famous DJ
Let's create exceptional together.
Exceptional work is more than just the banner we wave–it's our promise.
get in touch
See other projects like this