Shopify Plus
CONFERENCES
Shopify Commerce+
Bringing Together Global Thought Leaders
Commerce+ is Shopify Plus' annual thought leadership conference held in three major cities each year: NYC - The Times Center, Sydney - Jones Bay Wharf and London - Old Billingsgate. Each full day event hosts 350 entrepreneurs, creatives, marketers and leaders in the ecommerce space.
The event starts with a light breakfast hosted in a lounge where attendees can network before the event begins. The day's content is a mix of panels, fireside chats and keynotes featuring Shopify's own CEO and COO and other leaders in the beauty, F&B and apparel industries. Each event is capped with a networking happy hour featuring F&B, live entertainment, and an opportunity for attendees to upgrade their professional headshot.
SERVICES
Event production
Strategy & measurement
Creative strategy & design
digital interactives
Content design & production
Fabrication & logistics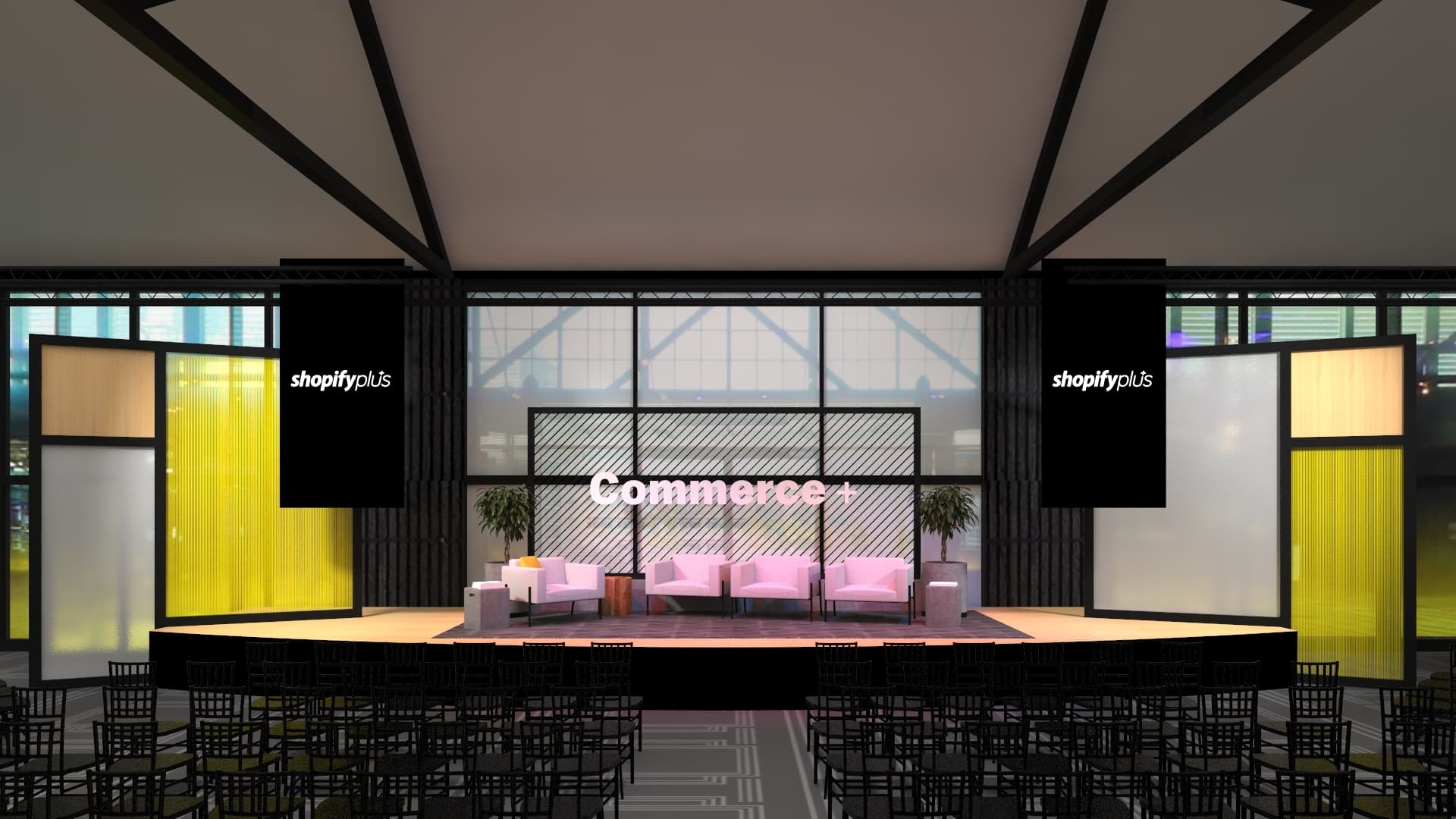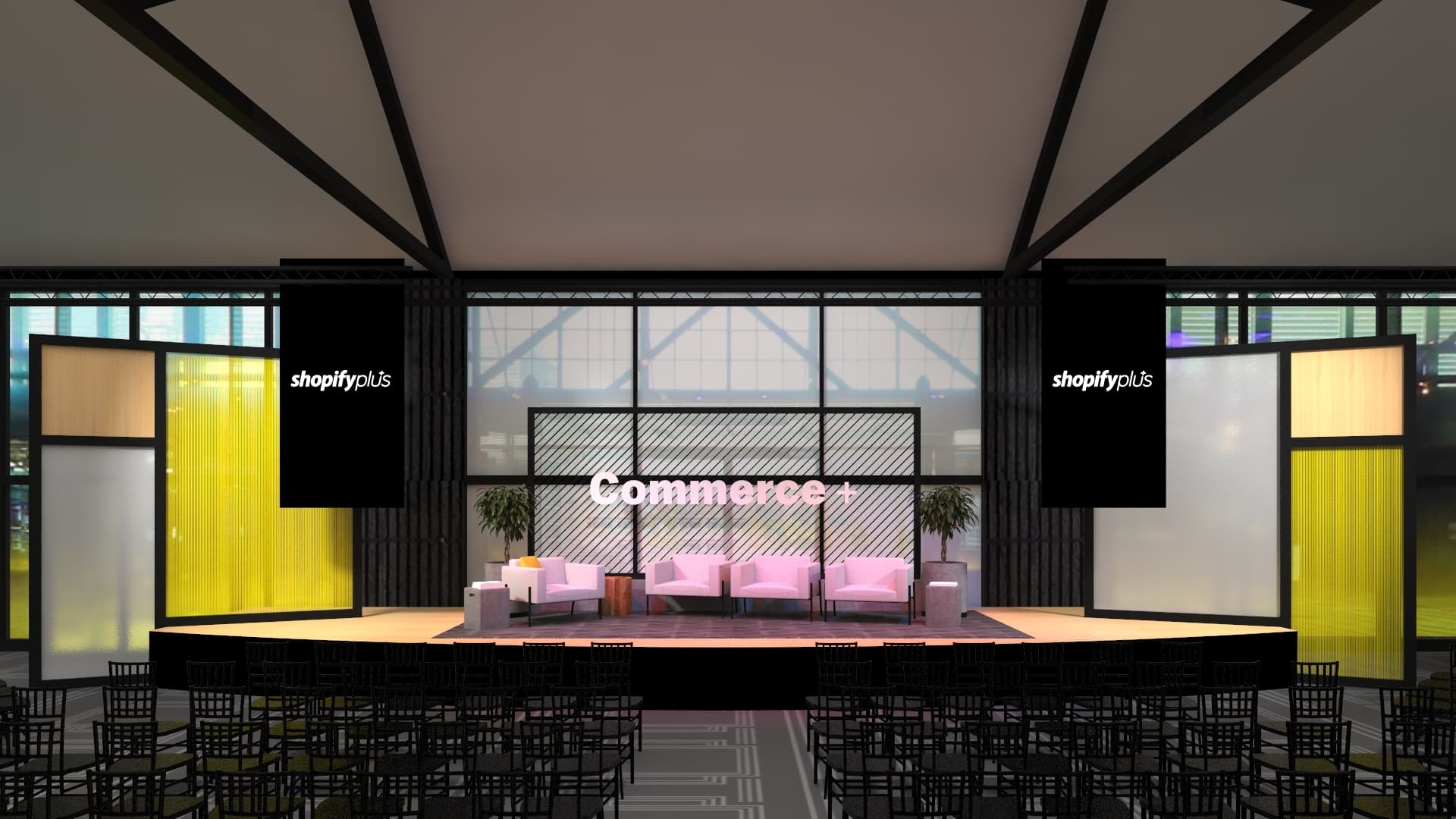 Rendered concept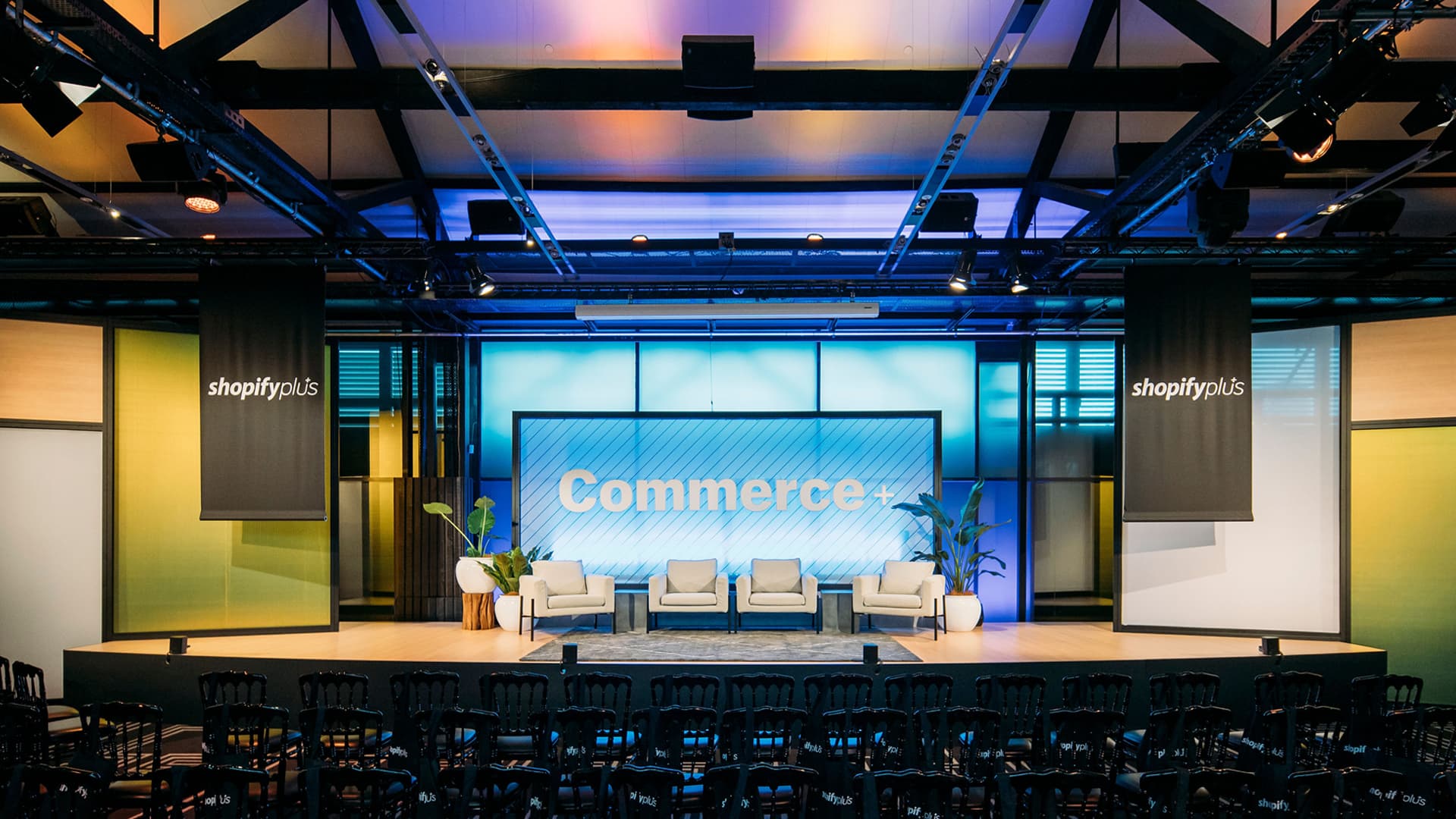 Final execution
Our Event Production and Creative Teams collaborate together to take the Commerce+ brand and translate it into an engaging attendee experience unique to each region.
While the branding remains consistent, local flavor is woven into the overall design and production details: we play up the coat check scenic in London as a nod to the city's notoriously rainy weather, we served a sweet reminder of Sydney's favorite cookie, TimTam, in the attendee recharge area and in NYC, we brought in a local coffee purveyor to keep the attendees caffeinated throughout the day.
More important than local flavor is the merchant story. Merchant products feature throughout the space, whether in the decor, Recharge area, or speaker green room. They're also included in attendee amenities, which helps connect the content attendees are hearing to a physical experience.
The Commerce+ NY has a pop-up shop where attendees can pick up Commerce+ branded swag like ceramic coffee mugs, sweatshirts and laptop bags from featured Shopify Plus merchants. We also incorporated shareable welcome moments throughout each event:
NYC: A custom plexi LED brand moment brings the space to life and offers up a photo op when attendees first arrive at The Times Center.
London: An iconic chesterfield couch placed below a Commerce+ sign shrouded by a robust floral arrangement, including unassuming roses, the national flower of the United Kingdom.
Sydney: With a venue that already has sweeping views of Darling Harbor, we set up a simple Commerce+ plinth for attendees to snap a photo with Sydney Harbour Bridge as the backdrop.
Let's create exceptional together.
Exceptional work is more than just the banner we wave–it's our promise.
get in touch