Budweiser
CONTENT PRODUCTION
Budweiser Strategy
Storytelling through Design
To engage the wholesaler audience attending Anheuser-Busch's InBev's annual sales and marketing conference, SAMCOM, we produced a dynamic, hour-long presentation including eight high-energy videos to shine a light on Budweiser's new marketing initiatives and campaigns.
Services:
Content Design & Production
Program Strategy & Measurement
Creative Strategy & Design
Event Production
For the Budweiser content strategy, we chose a distinct design approach that took into consideration the hierarchy of messaging and alignment with the brand's personality.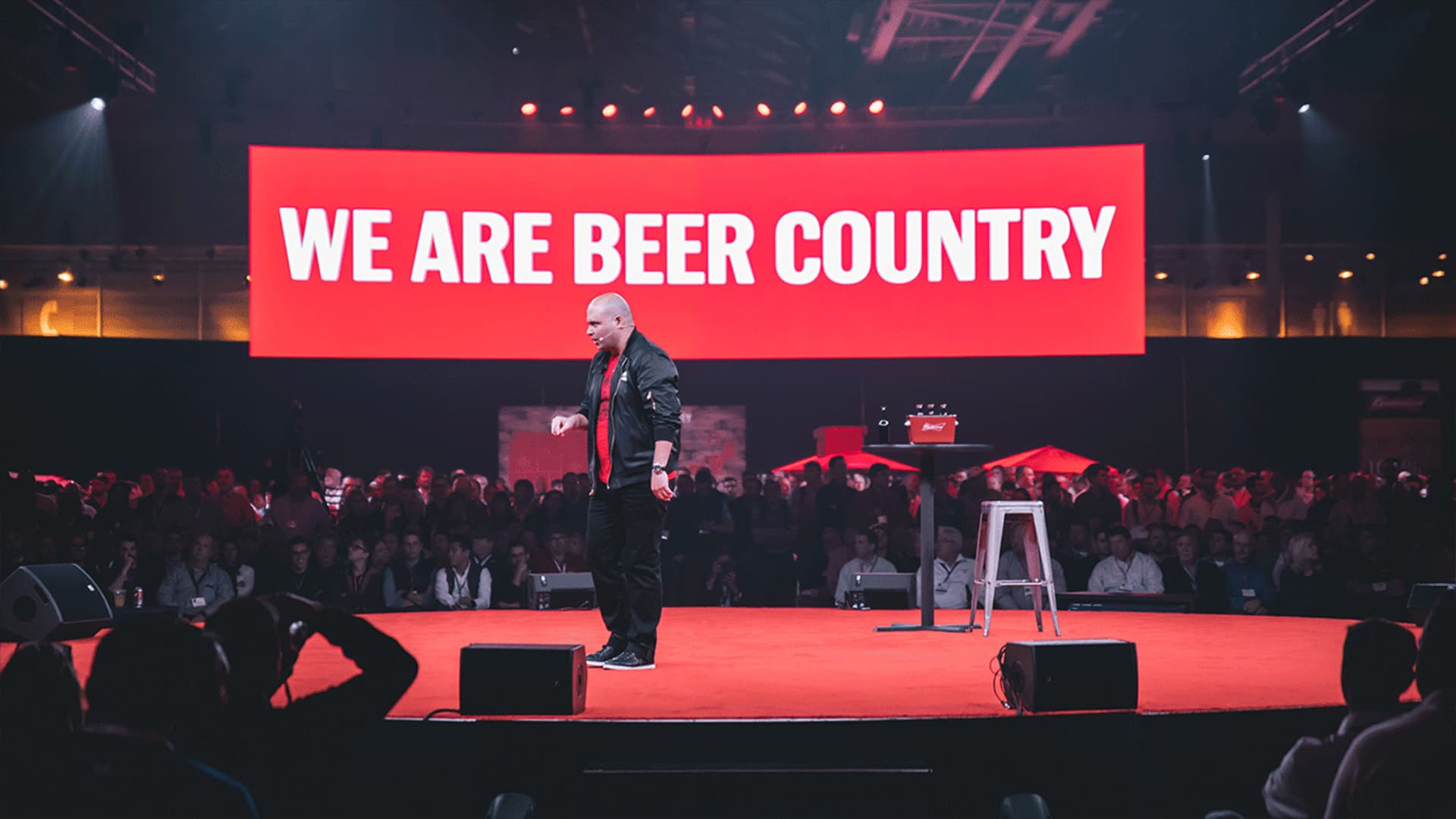 Using a strategic mix of graphics, animation, and video was used to ensure the speaker's talking points were enhanced and punctuated in an engaging way.
To develop the presentation graphics, we tracked and leveraged hundreds of existing assets, in addition to inventing and designing new visualizations, in order to best support the speaker's storytelling—all while maintaining cohesion and brand voice.
Presentation content included bold imagery, eye-catching packaging shots, punchy typography, animated graphs and stats, and integration of PIPs and IMAG of the speaker, resulting in a rich and layered attendee experience. Speaker content reviews, as well as offline and onsite rehearsals ensured content was aligned with messaging and graphic cues were seamless. Budweiser's brand voice was carried seamlessly across the event, extending the content strategy to also encompass motion/animation styling, lighting choreography, and hierarchy recommendations that align with the audience's priorities.
Wowing the Audience
We took great care when interpreting Budweiser's brief to ensure that we maintained the brand's key messaging and tone of voice resulting in video treatments that truly brought the Budweiser story to life for their audience. Each step of the production process was carefully considered down to storyboards, scripting, and soundtrack selection.
A dynamic opening video sizzle was produced to hype up the audience, while bold product and packaging videos showcased Budweiser launches for the upcoming year. Finally, to communicate the fine detail of the brand's new visual identity,, we created a video animation highlighting its evolution.
We also set up a product video shoot to support the launch of the Nitro Reserve Gold Lager aimed at capturing the key attributes of the liquid, the ritual associated with the brew, and the sleek new packaging designs. This video needed to get wholesalers excited to order large quantities of the new product and help launch it with a bang. To showcase the wave-like effect of how the Nitro Gold pours in a glass, we used a robotic arm and multiple cameras in-studio to capture the pour in stunning detail.
To ensure that Budweiser was able to achieve long-term traction, all presentation and video content was adapted for future use on television.
Let's create exceptional together.
Exceptional work is more than just the banner we wave–it's our promise.
get in touch
See other projects like this