IHS Markit
VIRTUAL EVENTS
CERAWeek Virtual
An Innovative Virtual Experience
Every year, CERAWeek unites the foremost thought leaders and decision makers in energy, technology, business, government, and finance, to bring clarity and perspective to the future landscape. In the wake of the COVID-19 pandemic, the 39th annual event was transformed from an in-person experience to a new, virtual format, inviting more than 19,000 registered delegates.
Utilizing our proprietary virtual platform, VIRTU, 235 sessions, 79 pre-recorded sessions, 14 live sessions successfully conveyed the conference's theme, 'The New Map: Energy, Environment and Charting the Future', while meeting the production needs for a high-profile speaker roster, and allowing for nimble elements like pre-production and live recording in the midst of an ever-shifting schedule. It also integrated a multitude of important features such as registration, networking opportunities, video content, speaker presentations, and more.,
SERVICES
Virtual Platform Design & Production
Program Strategy & Measurement
Creative Strategy & Design
Content Design & Production
Event Production
Building the Program
IHS Markit engaged Sparks to re-design the CERAWeek experience from concept to execution. Our full event production solutions included overall event design, storyboard development and content development, tracking and management.
We also provided around-the-clock editing, speaker support and live training and even post-event analytics to determine event success and drive future programs.
In keeping with CERAWeek's main theme, custom-developed content focused on recognizing the industry's acceleration on environmental priorities and the continued drive toward decarbonization and net-zero goals. Over 400 speakers purposefully led the content-rich program, and provided attendees with their expertise and perspectives within each session. Esteemed speakers included Bill Gates, The Prime Minister of India, John Kerry, Andrew Jassy, Amin Nasser, Bernard Looney, Ben van Beurden, and many more.
Creating the Platform
IHS also tasked us with the development and management of a custom virtual event platform. Utilizing our proprietary virtual event platform, VIRTU, we successfully incorporated several standout features, such as:
Registration and a Tiered Ticketing System featuring the ability to gate access to content based on attendees' registration type.

Dynamic Agenda constantly pointing attendees to featured content and sessions.

Attendee Directory, Profiles and an Agenda Builder to create their profile, search and connect with other attendees and add sessions to their calendars.
Speaker Profile Pages and Partner (Sponsor) Pages to learn more about the program's faculty.

Live Session Q&A & Chat Hub for attendees to to text chat with each other and/or engage with speakers.

Virtual AgoraX Lobby, an innovation-based extension of CERAWeek, focusing on emerging technologies in energy.

On-Demand Library to view additional and/or post-event content.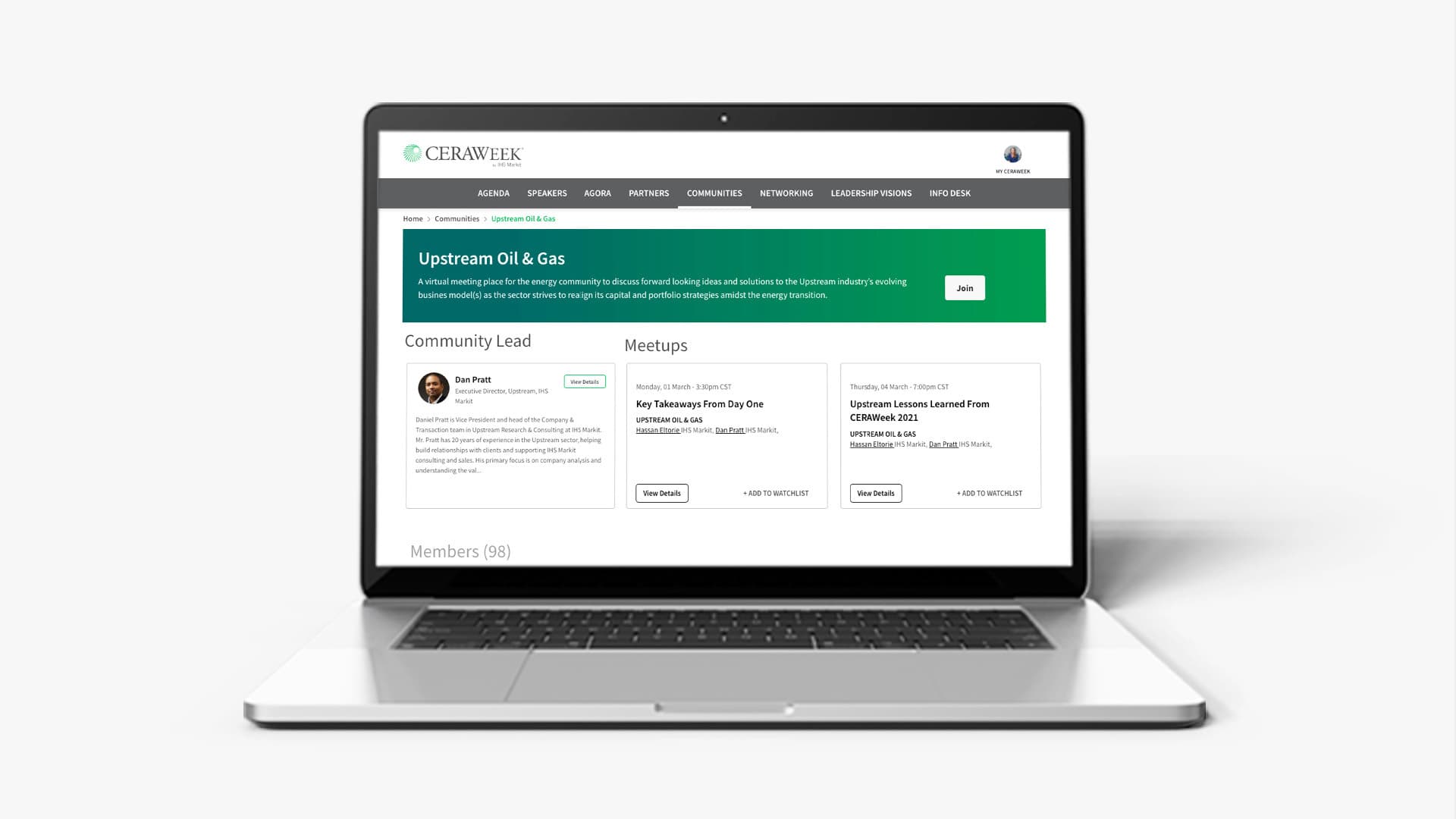 Highlights
Custom virtual CERAWeek platform using Sparks's VIRTU platform.

Developed 3 platforms that launched simultaneously with custom features and functionality.

Produced 235 sessions, 79 pre-recorded sessions, and 14 live sessions.

275 Executive Conference Speakers & 180 Agora Speakers including Bill Gates and the Prime Minister of India.

Viewership: Millions on TV, 404,000 Twitter and Facebook viewers, 10s of thousands across other officials/Petroleum companies accounts.

500 Indian socially-distanced viewing parties at regional offices/auditoriums.
Let's create exceptional together.
Exceptional work is more than just the banner we wave–it's our promise.
get in touch