Salesforce
VIRTUAL EVENTS
AWS Virtual Park
An Interactive Look Inside a Strategic Partnership
Ready to explore all of the ways Salesforce and Amazon Web Services (AWS) are working together to drive innovation? Step inside the Salesforce and AWS Virtual Park! The wholly digital experience gives users an up-close, interactive look inside the strategic partnership between both brands and the product solutions they offer to benefit current and prospective Salesforce customers.
SERVICES
Virtual Platform Design & Production
Program Strategy & Measurement
Creative Strategy & Design
Content Design & Production
Event Production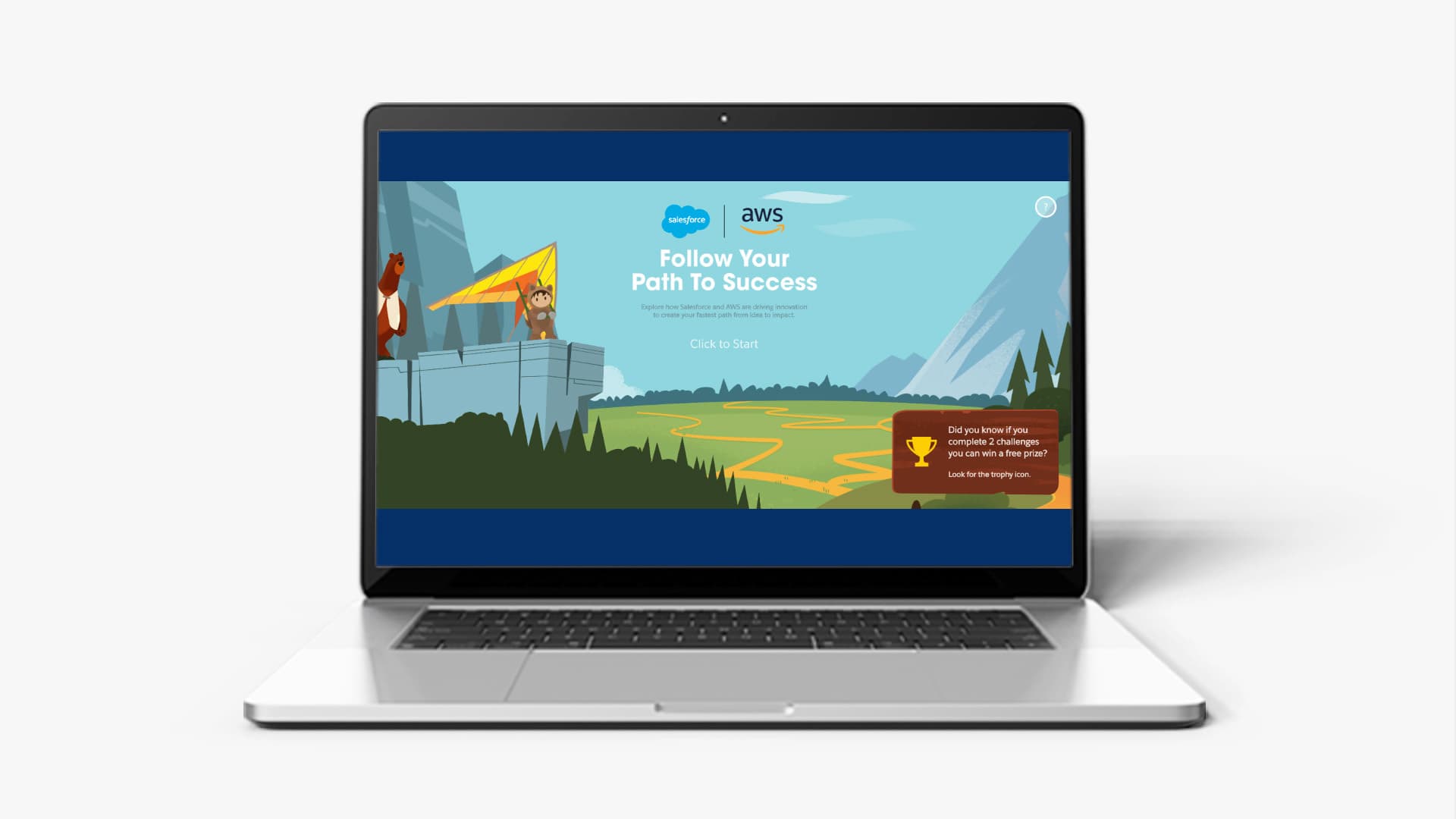 The User Experience
Users 'follow the path to success' by entering the Salesforce and AWS Virtual Park through a gated form that collects their information as well as prospective, applicable Salesforce solutions.
Once in the site, users are taken into an imaginative 2D animated world, featuring everyone's favorite Salesforce characters Astro and Cody. Astro guides them to the map view (on his hang glider), which includes four different locations aka 'Quests.'
It's up to users which 'Quest' (i.e. 'Service Cloud and Voice' or 'Public Sector and Compliance') they want to complete first! Oh and let's not forget that attendees enter their shipping address once viewing two of the content areas to receive a prize!
Each 'Quest' features its own unique, interactive landscape, all echoing the Campground/Nature theme Salesforce users know and love! Little easter eggs like flying birds, animated Salesforce characters, and flowing waterfalls enhance the experience.
Inside 'Quests', users watch pre-recorded product demo videos featuring members of Salesforce leadership teams, highlighting a specific partnership initiative or solution. They can also partake in a fully interactive block builder game that demonstrates the benefits of the product.
At any time, users can access helpful, relevant resources about Salesforce and AWS partnerships, or reach out to the Salesforce team for additional information or to schedule a meeting via a persistent help feature.
Working together, Salesforce and the Sparks team create the entire immersive, interactive digital Salesforce and AWS Virtual Park experience from conception to launch in just six weeks. The process includes initial storyboard concepts, creative revisions, production filming, video editing, intricate development, and coordination of prize shipping fulfillment.
The end result includes a fully custom animated world and experience that provides users with vital information and resources about Salesforce and AWS product solutions and innovations in a distinct and memorable way.
The strategically chosen platform allows for a complete custom build, using a game engine capable of handling both the game play of the map navigation and block building game, as well as the custom animations.
Highlights:
Visualized using photorealistic 3D elements and animations

Produced fireside chats, summits and demos

Incentivized viewership

Fulfillment of giveaways

Branded giveaway packaging

Mobile optimization
Let's create exceptional together.
Exceptional work is more than just the banner we wave–it's our promise.
get in touch