Comcast
RETAIL
Xfinity Retail Stores
Transforming the Customer Experience
The 80+ newly designed nationwide Comcast Xfinity stores are engaging 4,000 sq. ft. shopper environments that provide unique ways to experience Xfinity products and services. This retail rollout follows the brand's novel Chicago STUDIO XFINITY store and is designed to tell the Xfinity product family story in a way that's both easy to navigate and immersive.
SERVICES
Retail Fixtures & Services
Strategy & Measurement
Creative Strategy & Design
Full Store Prototype
Value Engineering
Digital Interactives
Fabrication & Logistics
The catalyst for redesigning Comcast stores into true retail sales environments—that go beyond just serving traditional cable TV customers—is the addition of mobile phone services to their product offering.
The new Comcast Xfinity stores feature a hands-on experience design that tells the story of the complete line of Xfinity's products and how they're interconnected using the brand's XFi service.
The Xfinity store environments and fixtures are designed by FCB Red/Chute Gerdeman, a long-time collaborator and partner with Sparks Retail.
Incorporating clean lines and simple forms juxtaposed with rustic finishes and various textural materials, the store's color palette is warm, highlighted by slightly cool white lighting. Multiple video screens are strategically placed throughout the store to present the complete Xfinity story.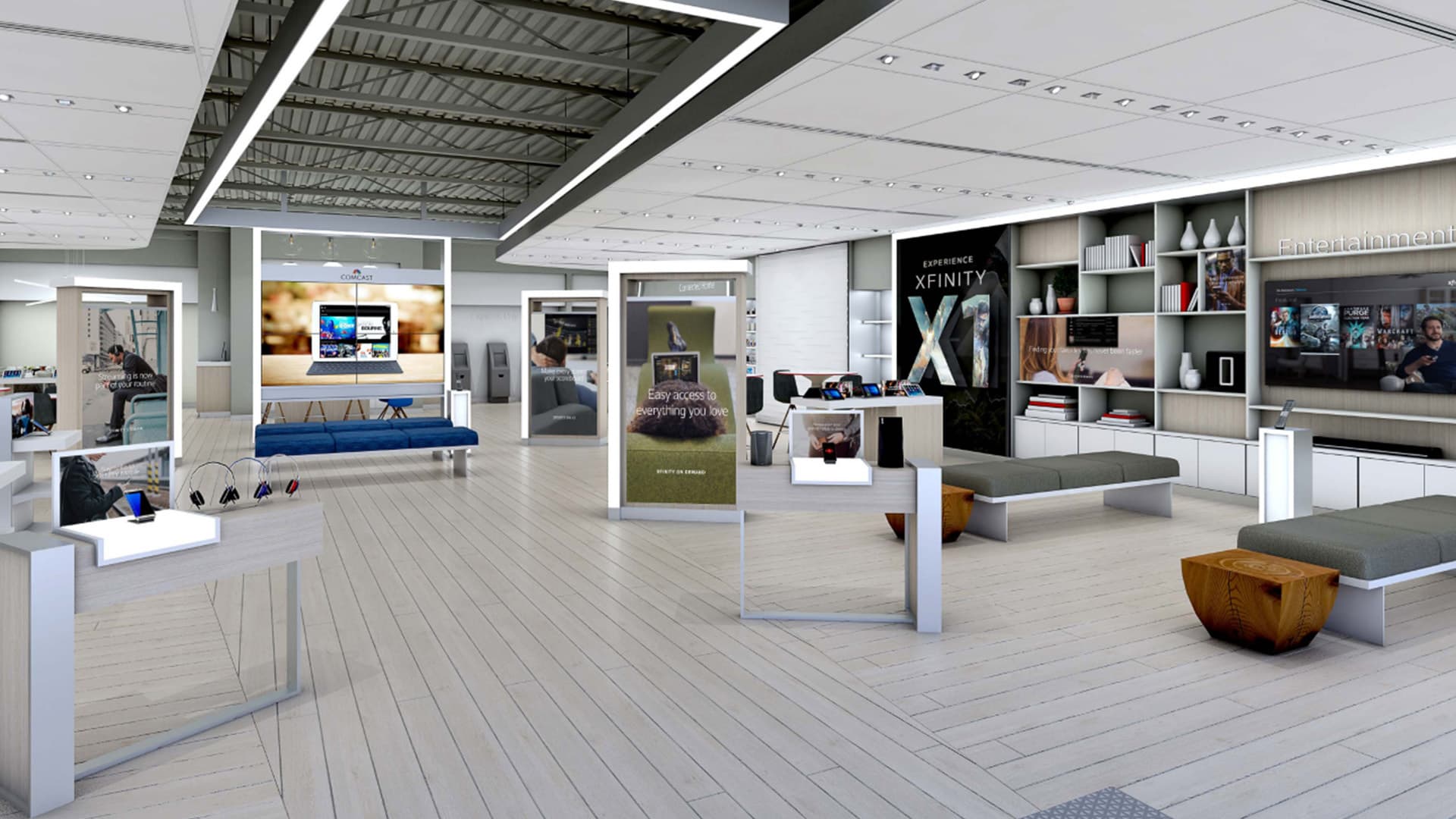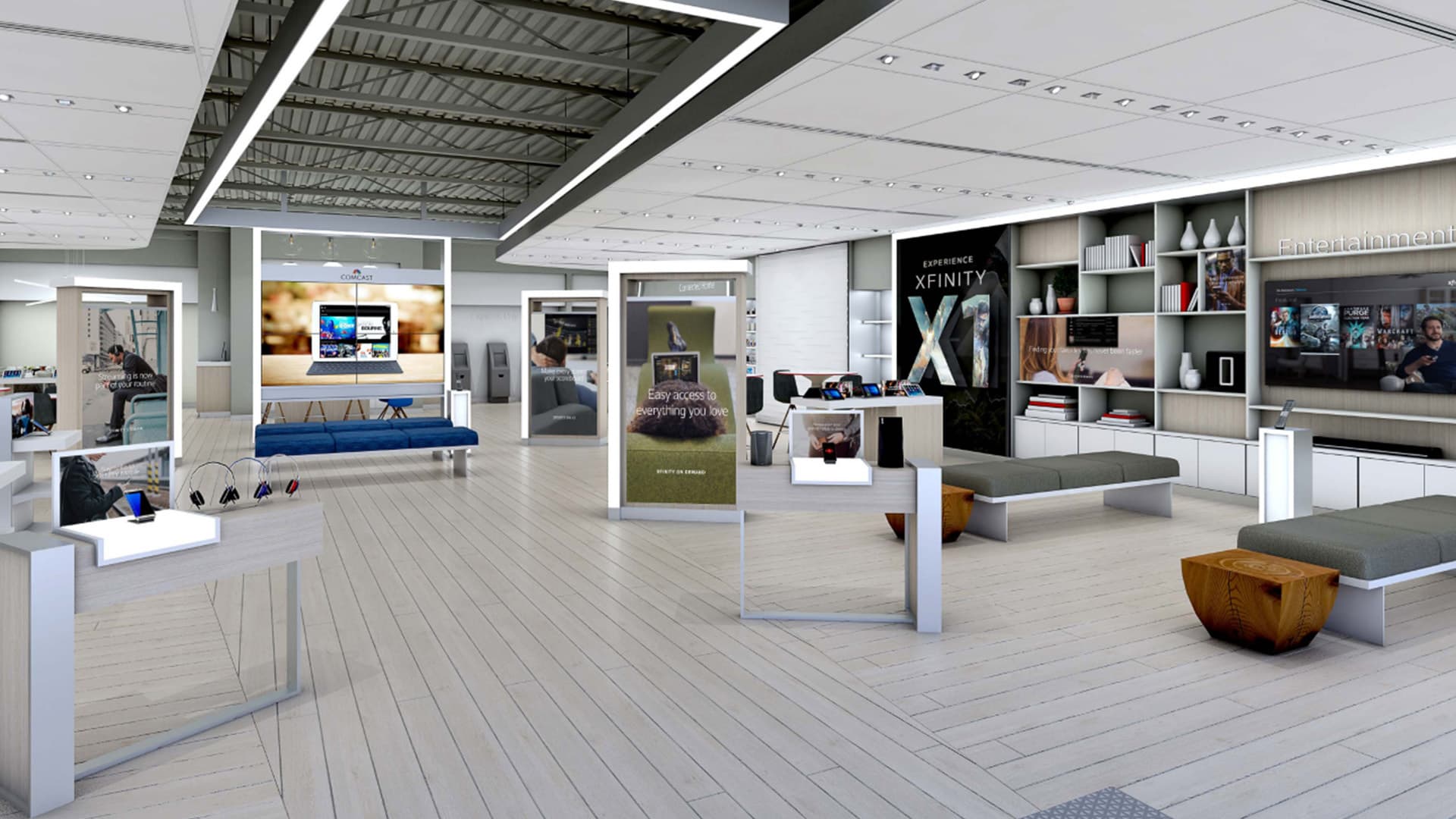 Rendered concept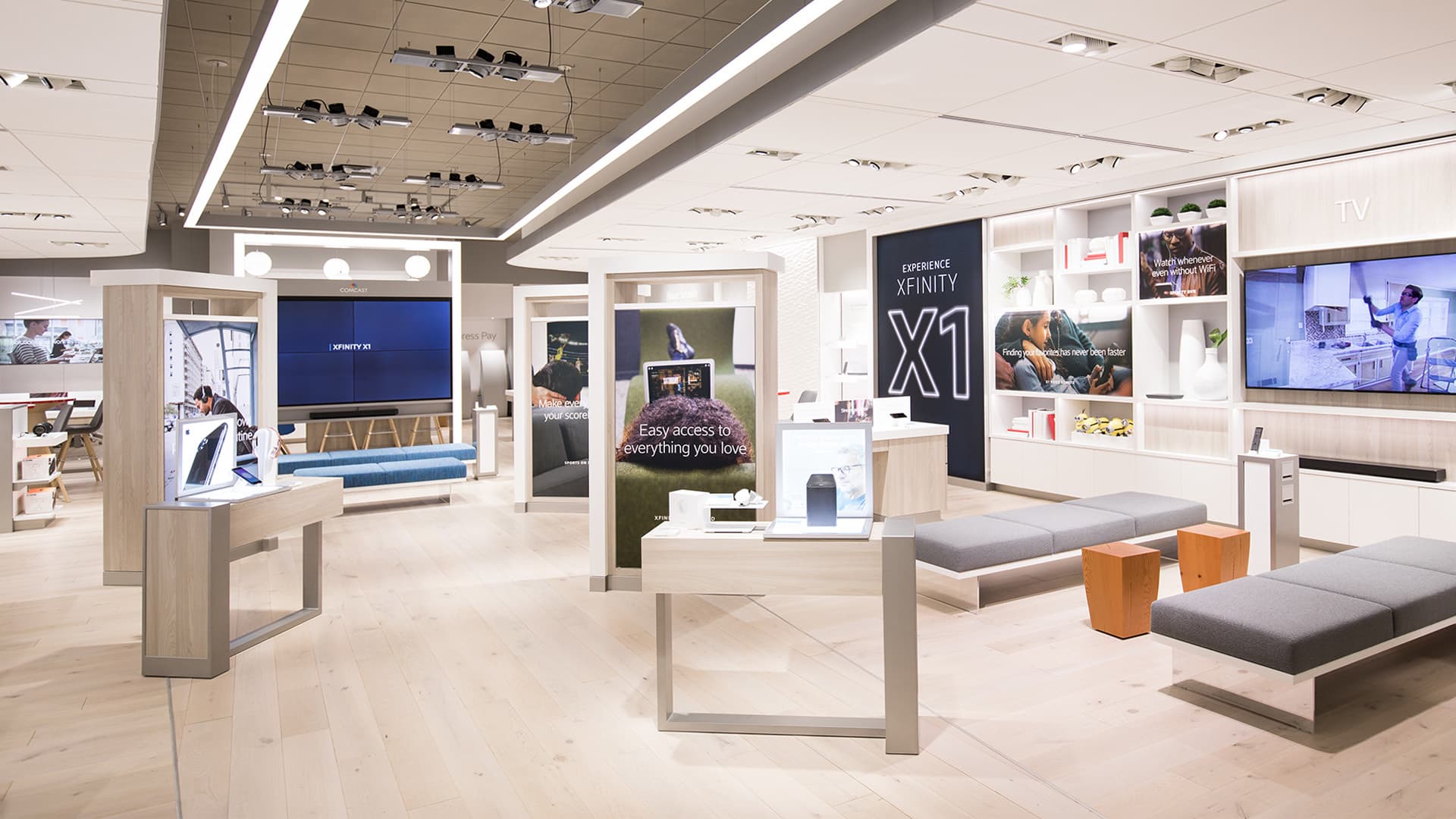 Final execution
To encourage product exploration, Comcast Xfinity stores are divided into six distinct, yet interconnected, zones:
01

Mobile

Mobile phone products and services

02

X1

Cable TV and Internet services

03

Connected Home

Home connectivity, smart home devices and security

04

XFi

Xfinity's ubiquitous free Wi-Fi service

05

Integration Lounge

Showcase for how the various Xfinity products and services work together

06

Xfinity Business Solutions

Products and services focused on small to medium businesses
Each zone has its own unique vibe while maintaining a similar look and feel with supportive design elements. In the Connected Home zone, customers experience the convenience and security of a truly digitally integrated home system.
Customers are invited to take the system through it's paces from locking and unlocking a mock "front door" to using X1 to view several security feeds from cameras placed throughout the store.
Fixtures for all Comcast Xfinity stores are custom-made including furniture, light boxes, display elements, merchandising hardware, decorative accessories, and props. The stores purposely exclude signage in windows—the goal is to entice customers to come inside, learn about and experience the products for themselves. Large towers fitted with giant HD screens are focal points in each store and draw customers in with video content of the latest Xfinity products and services. These state-of-the-art displays are the perfect spot in the store to begin the customer journey or to engage store staff.
Let's create exceptional together.
Exceptional work is more than just the banner we wave–it's our promise.
get in touch