Parade
RETAIL
Parade SoHo Retail Store
Supporting the Digital Brand's Physical Store Debut
Officially launching first in the digital space in 2019, the cult underwear brand Parade has now opened its doors to its debut brick-and-mortar store in the middle of New York's bustling SoHo neighborhood.
Located on 577 Broadway, the new 2,000 sq ft location adds a pop of color to SoHo's busy shopping street, as it was largely inspired by Téllez's love for surrealist artwork, '60s and '70s fashion cues, and a vibrant palette that customers everywhere adore.
SERVICES
Retail Fixtures & Services
Value Engineering
Fabrication & Logistics
The custom design and millwork package produced in partnership with The Andrus Group features fixtures for a shoppable but highly colored in-store experience.
From floor-to-ceiling geometric pillars to a life-size glittering circus tent, all of the elements in the store are meant to exude wonder and play. The whimsical interior boasts plush flooring, wall-mounted mirrors, and pillars of rainbow-colored geometric building blocks made from recycled foam stacked on top of one another, along with integrated LED fabric graphic lightboxes and artwork by previous Parade collaborators, like Jeanette Hayes.
Merchandise is staged in a way that is not only shoppable but blends in as decor, from the color-coordinated and size-organized underwear walls to the powder-coated wavy hangbars of newly-launched collections and loungewear while a 16' glass-topped POS station makes checking out a breeze.
Inside the life-sized circus tent, there is also a claw machine where shoppers can try their luck to win free mystery prizes, a cotton candy machine, and disco balls piled in the corner.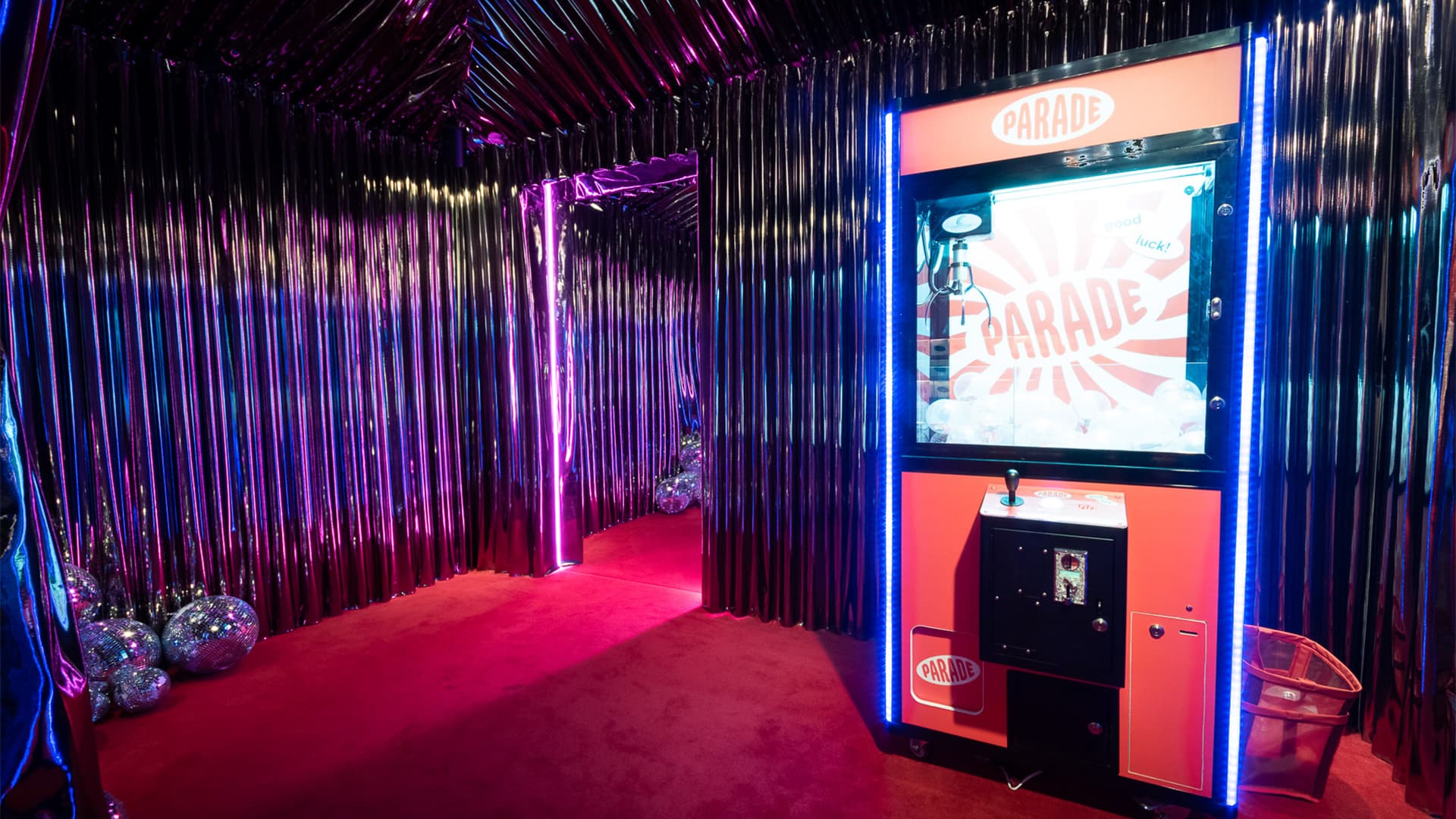 Let's create exceptional together.
Exceptional work is more than just the banner we wave–it's our promise.
get in touch